on Wed Aug 14, 2013 1:00 am
LDD file
Dubbed the Spectrum, the Borg Spectrum is the little brother of the Borg Spectre.
Spectrums are smaller, weaker, versions of the Spectre, but are by no means not powerful. They still have the traditional blow-up-one-ship-in-one-shot Super Spectre Cannon Gun.
Stats:
x1 Super Spectre Cannon Gun
Shields: Slightly less strong than a Spectre
Armor: What armor where?  Those hull plates are presumably weak.
Propulsion: Unknown.
Max Speed: Unknown
on Thu Aug 15, 2013 1:55 am
It's so cute and deadly... I don't know whether to laugh or cry!

_________________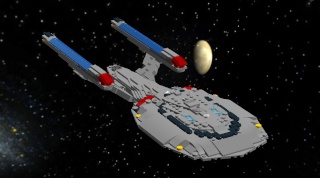 Dino27
"For honor,

   for valor,
 for cookies;  
   and for
friendship!
"   

Permissions in this forum:
You
cannot
reply to topics in this forum