on Thu Aug 15, 2013 3:05 am
It's 4:03 AM.... It's 4:03 Am! Yeah.... I need sleep.... but I.... had... to... get... this... up....


The Valdore/Norexan/Mogai type Warbird has very limited screen time in Star Trek Nemesis. It's class name is never officially stated, with the only named ship of the class being the Valdore itself. The writers supposedly "always intended that the ship be the Valdore (class)" but different games, navels, and websites list it as any of the above three classes. So.... I'm going with the only one seen on screen, the Valdore.
In Nemesis, we get to see three or so minutes of the Valdore in combat, two of them work with the Enterprise E to attack the Reman (super)Warbird Scimitar. Both Romulan ships are subsequently destroyed/severely damaged respectively. Whether this is an indication that two ships of this class aren't even the equal of one Federation Sovereign class, or if Shinzon (bad-guy of the movie) simply knew their weaknesses is unknown. As far as I can see, the ship only has five disruptor cannons (4 fore, 1 aft) with two more fore cannons POSSIBLE, but unclear. Is the ship simply highly underpowered in terms of beam weaponry? Or are those disruptors ultra heavy rapid fire models? Again, this is unclear.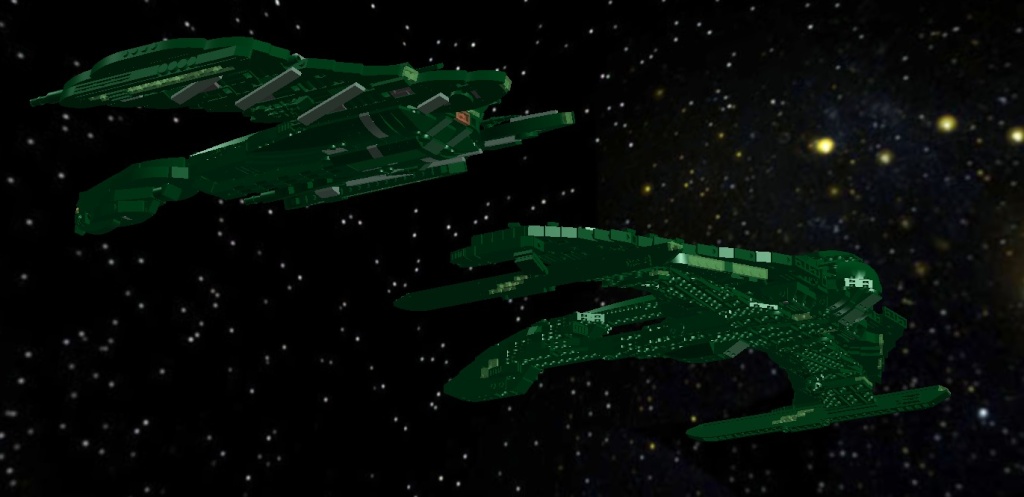 I was unable to see either ship fire a single torpedo, while the EE fired salvo after salvo of said weapon type. The Reman Warbird Scimitar was seen to fire torpedoes, so it is unclear why the Valdore type didn't use them as both ship classes were of similar design, being made by related races around the same time. At any rate, I have included five photon/plasma torpedo launchers *whatever they're supposed to use at this time, which is hard to say given that the ship isn't seen to fire any torpedoes* (4 fore, 1 aft)
Other information on the ship is... few and far between. A lot of people have opinions on it, there are games that include it, but the reality of the ship and it's abilities just isn't that clear from three minutes of screen time.
One thing is clear about this ship though, it is
highly
maneuverable and capable of fairly high impulse speeds. As I'd just be speculating on everything else, I'm actually not going to do stats as the only canon thing we know that I haven't said is that it is 603 meters long.

Zee LXF --> https://www.dropbox.com/s/xesthupkbg1hied/Valdore%20Warbird.lxf
_________________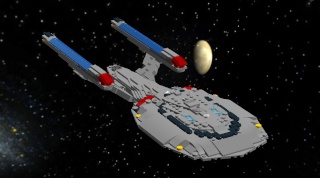 Dino27
"For honor,

   for valor,
 for cookies;  
   and for
friendship!
"   

on Thu Aug 15, 2013 8:51 pm
WONDERFUL!!!!!!!

Excellent work, Dino! You do quite well with these Romulan ships (such talent is much needed in this place, as almost no one builds enemy vessels anymore.

). Love the detail, and the "feather" effects using those long green slates on the wings makes it look more like an actual bird of prey. Too bad you couldn't get more info on the actual canon ship, but in the meantime, this one's good enough for me.


_________________
Jesus Christ is the only Way to Heaven [see John 14]

"All that is necessary for the triumph of evil is that good men do nothing."  ~Edmund Burke[/size]
on Thu Aug 15, 2013 9:31 pm
I'm glad you like it!

I'm becoming quite fond of those tile wing effects... they work amazingly well and are so simple that even I can do them.... I actually have a large number of other ships planned... but... how much longer do you think the Roleplay will run? Because with school, I could take MONTHS to build everything I have in mind.

Yes, we do need more enemy vessels, feel free to use this for anything you like (that goes for everyone else too, it was built to be used) Romulan Star Empire or Romulan Republic, it works well for either.
If you want more info.... there are plenty of people with computers who think they know
everything
about this ship... if you wanted to see some more stats, I'll try to dig some up.

_________________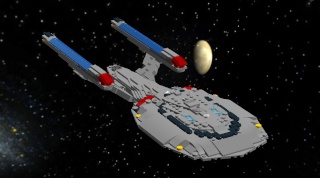 Dino27
"For honor,

   for valor,
 for cookies;  
   and for
friendship!
"   

on Fri Aug 16, 2013 1:38 pm
It's so.....beautiful.....
_________________
Someday someone may kill you with your own gun, but they should have to beat you to death with it because it is empty.
~/Com|Ant~
Arik wrote:Sadly, it's a doomed attempt. The Illuminati infiltrated the US government before it even was the US government,
on Fri Aug 16, 2013 1:41 pm
I'm glad you like it, and as with the Alth'Indore.... she can be treated like a canon ship class (this time it actually is

)

_________________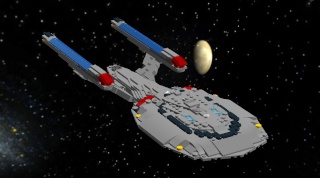 Dino27
"For honor,

   for valor,
 for cookies;  
   and for
friendship!
"   


Permissions in this forum:
You
cannot
reply to topics in this forum