on Thu Aug 15, 2013 11:12 am
LDD file
The Borg Battle Sphere's armament is mostly centered around a gun somewhat like the iconic cannon of a Star Killer, but much smaller and subsequently with a much smaller payload. This little Sphere also is built by the 'domestic' Borg.  Maybe in the Spectre universe, this was one of the prototype Star Killers.
The Battle Sphere is also armed with four standard Borg cutting beam emitters around its central gun.
Propulsion comes from four thrusters in the rear.
The most interesting thing about this weapon of math destruction however is its
EXTREMELY
heavy armor.  Armor serves as the Borg Battle Sphere's primary defenses, along with a little shrink-wrap shield generator, but we're talking about the
armor
.  Shields are boring.  The Battle Sphere's armor is very dense and serves to provide most of the Battle Sphere's structural rigidity.  A small control room is believed to be at the very center of the Sphere.
How to destroy one of these then?
Arm a transphasic torpedo, please.  Or, once we blow a hole in those shields, some large scale version of a T-116 Rifle could probably do the job too.  But why waste a round of bullets when we can subsequently just beam an antimatter warhead into the center of the Sphere and disable it just like that?
The possibilities are endless!  If we aren't destroyed by the Borg first, then we'll just die from brain overload!
on Thu Aug 15, 2013 2:14 pm
Is this a custom design? Or the canon sphere? Or the Spectral version of the canon sphere?
Anyways.... cool little ship!

I love it's powers of "math destruction" I will be facing said powers in a little bit.

But seriously, you did a good job making a round thing of of square pieces, no small task. I like it, I don't want to meet it, but I like it.

_________________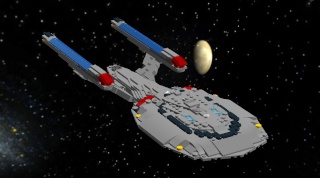 Dino27
"For honor,

   for valor,
 for cookies;  
   and for
friendship!
"   

on Thu Aug 15, 2013 8:53 pm
Great job, Talmid! We need more well-designed enemy vessels like this one in our PCG universe.

_________________
Jesus Christ is the only Way to Heaven [see John 14]
P.S.S. Steadfast, my Flagship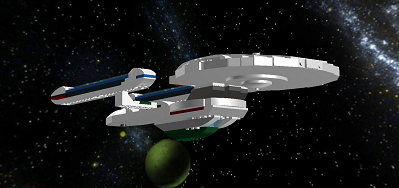 "All that is necessary for the triumph of evil is that good men do nothing."  ~Edmund Burke
on Fri Aug 16, 2013 11:19 am
Custom design, I'm glad you both like it.

What if I told you I built it (or at least uploaded it to the Creation Lab) in November of 2010?

Gotta love the old designs.

Permissions in this forum:
You
cannot
reply to topics in this forum