on Sun Aug 18, 2013 1:39 pm
This was my winning entry to scarecrow's ISS Victor contest, in which I won his PCG Solar Strider (or an identical copy or something like that) which became my dearly beloved PPT ship whose name I cannot recall at the moment. (I really need my files back...I've been outa the PPT too long.)
The ISS Fury is a ship built as a combination of amazing speed and frigthful firepower. It includes:
-20 rotatable phaser arrays
-8 heavy pulse phaser arrays
-18 heavy pulse phaser turrets
-48 multipule purpose phaser turrets
-50 phaser banks
-4 phaser strips
-30 rapid fire photon torpedo tubes
-16 quantum torpedo tubes
-4 positron torpedo tubes
-70 railguns
-4 heavy artillery railguns that fire anti-matter and matter combination war heads.
-2 Series 5 long range tatical armor unit missile pods
-2 Delver class guass cannon artillery platforms with 400 foot barrels
-1 "Anti-Delver" guass cannon with a 900 ft barrel and slugs the size of a captial ship
-2 hangers with with 30 Iridium class fighter, 15 bombers, and multiple shuttle craft each.
-powerful tractor beam turret
-4 Delver class shields with a 4 second recharge time
-3 inch ablative armor
The Fury is a combination of firepower and speed, as is in evidence by the guass cannons and positron torpedos (which are twice as powerful as a quantum torpedo), plus large quantities of lesser weapons. The four warp naccles with their chain of 7 omega mollecules and wave motion tech allow for warp speeds of warp 10 almost indefinatly. The single impulse engine is larger than most, and uses wave motion tech as well allowing for speeds of warp 3.2
The delver shields and armor, while not as strong as some ships, allow for a very strong defense.
With this combo of speed and firepower the ISS Fury is able go, arrive, stay, and survive. It's only true threat is a UDO ship, but even a Spectre *may* fall to this ship's awesome firepower.
*Stats may change, but I'm too lazy to fix them at the moment, I just copied it from the lab.
Spoiler:
LXF file: http://universe.lego.com/en-us/community/creationlab/GetMedia.aspx?id=84d5a765-6579-4dce-b3aa-6757222e32bc
This thing needs a refit....
_________________
Someday someone may kill you with your own gun, but they should have to beat you to death with it because it is empty.
~/Com|Ant~
Arik wrote:Sadly, it's a doomed attempt. The Illuminati infiltrated the US government before it even was the US government,
on Sun Aug 18, 2013 9:42 pm
So.... graceful.... I think I'm gonna cry!


Anyways.... that is one insanely powerful ship.

Amazing, but overkill.

_________________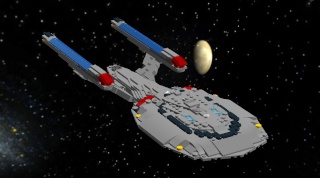 Dino27
"For honor,

   for valor,
 for cookies;  
   and for
friendship!
"   

on Mon Aug 19, 2013 12:09 pm
Yeah, once I refit it it's gona be a little different....the railgun will probably get smaller, but it'll have more than just one round.

And I'll get my lengths right as well.

_________________
Someday someone may kill you with your own gun, but they should have to beat you to death with it because it is empty.
~/Com|Ant~
Arik wrote:Sadly, it's a doomed attempt. The Illuminati infiltrated the US government before it even was the US government,
Permissions in this forum:
You
cannot
reply to topics in this forum