on Sun Aug 18, 2013 1:46 pm
I DID NOT MAKE THIS SHIP. I AM SIMPLY REPOSTING IT FROM THE LAB. JARED50000 IS THE SOLE ENGINEER OF THIS SHIP.
The Tempest Class Escort is designed to be a cheap ship that is sent out in droves, or on single scout missions. It's small, compact size and durability allow it's small crew to operate it with minimal problems. If necessary it can be flown by a mere 6 crew members, although the regular complement is around 27. This ship is packed full of weapons, having 14 Type 1 Armory Clusters, containing phasers, quantum and photon torpedoes, as well as a small mission module in the center that can be customized for many uses. It's main awesomeness factor is it's ability to split into three sections. Two of them are capable of warp, and the third is the mission module. It can be deployed as a bomb, a time capsule, pretty much what ever you want.I hope you like it. Delta Fleet has 60 of them, and I'm not going to bother naming all of them. If you want a wing(that's 5,) just ask, and I'll review your request.
Spoiler:
LXF file: http://universe.lego.com/en-us/community/creationlab/GetMedia.aspx?id=8436a7b7-1dde-4781-a29f-e716fc758d21
_________________
Someday someone may kill you with your own gun, but they should have to beat you to death with it because it is empty.
~/Com|Ant~
Arik wrote:Sadly, it's a doomed attempt. The Illuminati infiltrated the US government before it even was the US government,
on Sun Aug 18, 2013 9:43 pm
Cool.... looks almost alien in design.... very nice.
_________________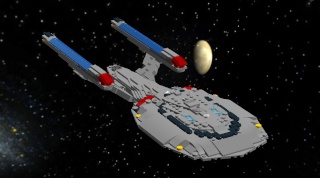 Dino27
"For honor,

   for valor,
 for cookies;  
   and for
friendship!
"   

Permissions in this forum:
You
cannot
reply to topics in this forum