on Mon Aug 19, 2013 9:19 pm
PCG Tigerlily
(Ronin class variant)
I DID NOT MAKE THIS. I AM SIMPLY REPOSTING IT FROM THE LAB. SLOOPOFWAR IS THE SOLE ENGINEER OF THIS REFIT. GANDALF360 IS THE SOLE ENGINEER OF THE ORIGINAL.
Not liking to get something for nothing, Sloop only took one Ronin built it into the new Tigerlily Variant. (don't take it the wrong way Gaddy, your ship was great, but it wasn't quite my style). Some of the changes are purely aesthetic, such as the color changes to the engines. Others aren't so much, like the completely redone SNOT saucer, and some slight mods to the back. The Quad Oblivion has been doubled up to provide more fire power forwards at the cost of it not being able to hit targets behind it. The largest change was the massive amount of torpedo launchers/bays he added allowing the ship to douse whole areas in fire, an extremely potent tactic against cloaked ships.
Defenses:
2x Sentinel Shield Generators
1x Phased-Plasma Shield
1x Phased-Plasma Cloak
1x XX Shader
In addition it has one foot ablative armor throughout with two feet on the saucer and a reinforced crystal lattice secondary hull.
Weapons:
20x Duel heavy pulse Turrets
50x Rapid-fire phaser banks
50x Photon Torpedo Tubes
20x Quantum torpedo bays
30x Hybrid torpedo bays
25x Acoustic Torpedo Launchers
-1x Quad Oblivion Cannon
-
Anyone who wants can immediately change their Ronin-Classes to Tigerlilies. It has limited phaser abilities in exchange for improved defenses and lots of torpedo dakka.
Spoiler:
LXF file: http://universe.lego.com/en-us/community/creationlab/GetMedia.aspx?id=30008d96-2f9a-4264-bdbb-9ee1abebffbf
_________________
Someday someone may kill you with your own gun, but they should have to beat you to death with it because it is empty.
~/Com|Ant~
Arik wrote:Sadly, it's a doomed attempt. The Illuminati infiltrated the US government before it even was the US government,
on Mon Aug 19, 2013 11:39 pm
I've always loved the Ronin AND the Tigerlily...
_________________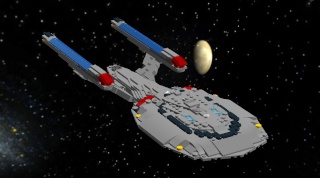 Dino27
"For honor,

   for valor,
 for cookies;  
   and for
friendship!
"   

Permissions in this forum:
You
cannot
reply to topics in this forum