Guest

Guest

on Tue Oct 01, 2013 12:47 pm
What?! Soccergirl can make starships? Craziness!

Spoiler:
Spoiler:
Spoiler:
LXF is in the process of being uploaded to the creation lab.
I hadn't tried a starship for almost a year, and seeing Scarecrow's wonderful ships made me want to give it another try. I think this is pretty good, considering my previous attempts!
The Errant Class is a science exploration vessel. As such, it is built to last, but not necessarily heavily-armed. It's got phaser banks (the small, flat, round pieces) and photon torpedoes (the binoculars), a cloaking device, and various other stuff I don't know enough about to really describe.

Comments, criticisms, and lectures about how wrong I got the weapons systems are encouraged!
on Wed Oct 02, 2013 5:45 am
It's actually not bad for one who thinks they can't build starships.

It does ride a fine line between being just flat and really busy on the top and having a flatter but still 3 dimensional design with cool details. My only suggestion would be to add one more layer or two to the bottom that are smaller than the current bottom layer, making it sorta "round back down" slightly if you know what I mean, and then put your sloped peices on that you have on underneath. I do really like your engines and how their slanted though! And I'ld change the front a little, so it's not quite so busy and flat at the same time, but I'm having trouble picking out which peices to change and which to keep, all the good ones are integrated with the not so good ones too well!

Overall, it's actually a pretty nice ship, it just needs a little touching up in my opinion.

Oh, and I think the name Errant has already been taken.

_________________
Someday someone may kill you with your own gun, but they should have to beat you to death with it because it is empty.
~/Com|Ant~
Arik wrote:Sadly, it's a doomed attempt. The Illuminati infiltrated the US government before it even was the US government,
on Wed Oct 02, 2013 8:50 pm
Nice to see you posting starships, Soccer!

Don't be too hard on yourself with the starship thing: you did well on this one, and even if you didn't, practice makes perfect. And not everyone has a knack for starfighters like you have...I really stink at SF's for the most part IMO, and I have only made one really successful model.

Here's my thoughts:
1) You did a good job on the detail! It shows balance between over-detailed and under-detailed, something even I haven't been able to really perfect yet.
2) Like Ant said, I would make it a layer or two thicker throughout.
3) I would add some detail to the bottom, maybe a few dark circular pieces.
Again, good ship, and keep 'em comin'!

~Scare~
_________________
Jesus Christ is the only Way to Heaven [see John 14]
P.S.S. Steadfast, my Flagship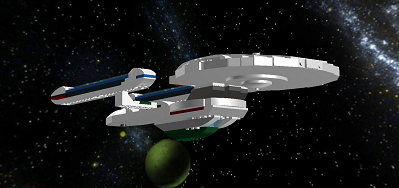 "All that is necessary for the triumph of evil is that good men do nothing."  ~Edmund Burke
Guest

Guest

on Thu Oct 03, 2013 9:32 am
Okay, I've got some refitting to do! Definitely going to add a few more layers to the underside.

Thanks for the suggestions, guys!
Ant: I'm glad I'm apparently so good at mixing in the good pieces with the bad, although it'll make it harder to figure out which is which!

And wait, what? Errant is already taken? Great. Now to come up with another name...
Scare: I just want to be a more versatile builder, and I want to get better
now
. If I take a little bit of the quality from my fighters and put it into my starships, I would do it. Anyway, add some dark circular pieces to the bottom? I'll give it a shot!
on Thu Oct 03, 2013 8:24 pm
Or you could put studs facing down by use of a cross peice and some flat circular 2x2 peices, and add more detail like on the top.
_________________
Someday someone may kill you with your own gun, but they should have to beat you to death with it because it is empty.
~/Com|Ant~
Arik wrote:Sadly, it's a doomed attempt. The Illuminati infiltrated the US government before it even was the US government,
Permissions in this forum:
You
cannot
reply to topics in this forum