on Wed May 22, 2013 4:17 pm
So while I can't build in LDD yet, I managed to take a few screen shots of some things on my non-infected thumbdrive. Unfortunately the background works now when taking screenshots, as opposed to automatically making it alpha (transparent nothingness) which made it easy to put different backgrounds on my stuff. I might be off on some of my weapon number designations, but I'll try and fix it when I can. But anyways...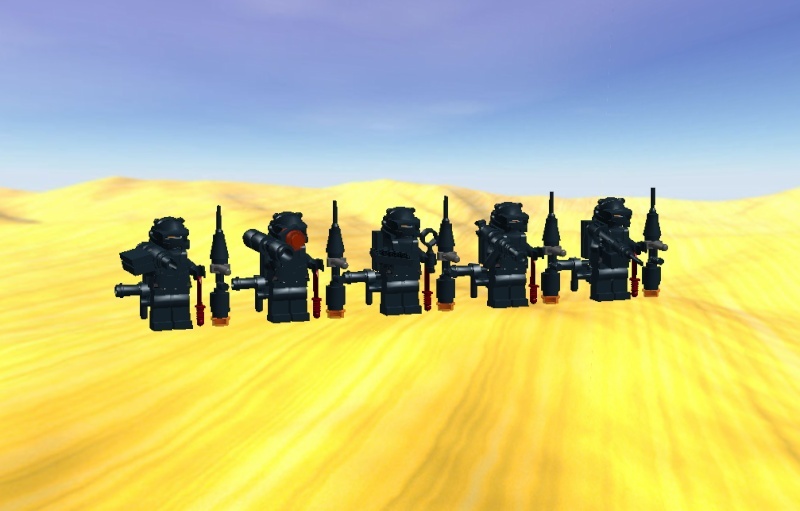 The Five-man fireteam is the staple of the PPT ground forces. It includes five men (duh ), each equipped differently. In a standard infantry grouping system for the PPT two fireteams makeup a squad (10 men), five squads make up a platoon (50), five platoons make up a company (250), and four companies make up a battalion (1000). Special battalions may have lower total numbers of men but have armor, aircraft, special forces, or a combination of these in their battalion. Each man in the fireteam has the same standard weapons, designated primary, secondary, and back-up weapons. They then also carry grenades and, in some cases, det-packs or some other such thing, designated tertiary weapons. Each man in a fire-team is trained in an area different from the rest, using a weapon to fit that area. These weapons are designated special weapons.
From left to right we have the Gunnner, carrying a D-10 machine-gun, who provides extra power when the group is pinned down or needs to clear an area quickly. Next is the Heavy Weapons Expert, wielding a D-15 Rocket Launcher and explosives. After him is the Combat Engineer, wielding no special weapons but equipped with a small computer and various tools for hacking, sabotaging, fixing various things, blasting holes in walls, building bridges, or whatever. He also carries a more powerful sensor array and radio equipment then is equipped in the other's helmets and HUDs. Standing next to him is the Close Combat Support Trooper, wielding a D-19 FACTS, or Fully-Automatic CombaT Shotgun. He acts like the Gunner, but with more power and shorter range in his weapon. Last in line is the Sniper, with a D-12 Sniper Rifle.
All of the men in a fireteam are equipped with standard assault rifles as their primary weapon, being the D-06 'Shrecik" (Shree-ik). Their secondary weapon is a D-18 Submachinegun, and their backup weapon is a D-09 pistol. Each trooper also carries a combat knife as well. All their helemts have a basic radar sensors, which the computer uses, along with input from other units and mission support, to create a small mini-map designating targets, hazards, enemies, friendlies, and neutrals. It also includes a gun sight-HUD link and a display of weapon's systems and personal shielding level. The personal shielding is only against energy based weapons, with the armor being for solid projectiles. The helmet also includes a review camera system that acts as a "mirror" for each trooper, and the ability to feed a different unit's frontal camera their HUD to see what their doing. Each HUD includes night-vision, a thermal imaging system, and a flash-light as well. I'ld say that the only thing it's missing is a cup-holder but if you turn it upside down, it is one!

Their personal body armor is top of the line (except for spec-ops of course), with inertia dampening technology to to spread out the force of impact of hitting a wall after flying through the air from an explosion or from getting hit by shrapnel, bullets, or whatever. It is also very hard and resistant to armor piercing rounds, as well as light-weight and allowing for a nearly full-range of body movement.
And here's summoar pictures:
Spoiler:
Spoiler:
Spoiler:
Spoiler:
Spoiler:
_________________
Someday someone may kill you with your own gun, but they should have to beat you to death with it because it is empty.
~/Com|Ant~
Arik wrote:Sadly, it's a doomed attempt. The Illuminati infiltrated the US government before it even was the US government,
on Fri May 24, 2013 10:19 am
Nice team, Ant! Love the way you designed these guys. I wouldn't want to be on their bad side.

Great to see you posting stuff here!

_________________
Jesus Christ is the only Way to Heaven [see John 14]

"All that is necessary for the triumph of evil is that good men do nothing."  ~Edmund Burke[/size]
on Fri May 24, 2013 3:53 pm
Yup, I had to get something over here.

_________________
Someday someone may kill you with your own gun, but they should have to beat you to death with it because it is empty.
~/Com|Ant~
Arik wrote:Sadly, it's a doomed attempt. The Illuminati infiltrated the US government before it even was the US government,
on Mon May 27, 2013 1:13 pm
I can just see these guys storming into a building... the smoke from a grenade clears. Lasers run through the room as they scan for survivors... An enemy opens fire.... they let loose with a hail of fire.... Yeah... These guys are pretty awesome

As I said when they were first released, I'm not a fan of each man carrying so many weapons. Guys (unless they are FAR stronger and the gear and ammo is FAR lighter) simply can't PRACTICALLY carry and keep enough ammo for a main weapon, an assault rifle, an SMG, AND a pistol. I suggest using the assault rifles as a primary weapon, with the SMGs as an alternate main weapon, maybe a backup main for the heavy weapons guy, sniper, and combat engineer. But who is REALLY going to carry 4 firearms on their person into combat and enough ammo to use them? I can understand keeping a couple in the transport, but carrying them? I just don't see it working for most men.
Overkill armory aside, these guys are awesome! Well done AA
on Mon May 27, 2013 4:03 pm
Thankyou, I just copied them from LZP. I'm thinking about scratching the SMG though, so yeah. Specially when I begin thinking about ammo, since PPT ammo isn't all just energy and still requires bullets. (So personal shielding won't help you.

) Many of these weapons are supposed to be smaller than I can show with legos though, and many PPT soldiers undergo physical enhancement using non-quite-so-bad-for-you drugs and such. Kinda like Halo Spartans.
_________________
Someday someone may kill you with your own gun, but they should have to beat you to death with it because it is empty.
~/Com|Ant~
Arik wrote:Sadly, it's a doomed attempt. The Illuminati infiltrated the US government before it even was the US government,

Permissions in this forum:
You
cannot
reply to topics in this forum