on Sun Nov 10, 2013 12:10 pm
First of all, let me say that I tried FOREVER to figure out how to attach a minifigure to this vehicle. In real life (i.e., if you actually bought this thing), you COULD put a minifig on it, but LDD is being super-stubborn and, no matter how hard I try, will not allow the minifig to grip the handle pieces.

But anyhow, after playing SWBF1 and 2 (again!), I got inspired to make a ground vehicle for our PCG boys on the field. I actually began this project as a troop transport vehicle, but when I saw the motorcycle cockpit piece, things began to click in my brain and I altered my intentions.
The LGV-SS Ranger (Light Ground Vehicle-Scout Speeder) is designed for short recon missions on enemy territory, or for patrol missions around PCG bases. It is armed with two powerful plasma guns and is well-armored for a speeder its size, but has the disadvantage of having very little space to store gear or handheld weapons. It is powered by an extremely efficient fusion engine, as well as a fusion battery to power the plasma guns. It has a small shield generator sufficient for protection against moderate small arms fire.
The Ranger can reach speeds up to 170 miles per hour for short distances, or 130 miles per hour for long distances. It is fairly maneuverable but less so than other speeders.
Now for the pictures:
Spoiler:
Spoiler:
Spoiler:
Spoiler:
Spoiler:
With the minifig I tried so hard to put on it.

Spoiler:
Well, let me know what you think. And if ANYBODY knows how to get that stupid minifigs hands to attach onto that stupid handle piece, please let me know!
In Christ,
~Scare~
_________________
Jesus Christ is the only Way to Heaven [see John 14]
P.S.S. Steadfast, my Flagship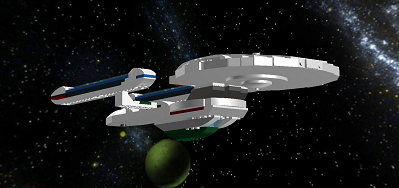 "All that is necessary for the triumph of evil is that good men do nothing."  ~Edmund Burke
Join date

: 2013-05-19


Faction

: Caldera Imperial Republic


Posts

: 424

Character sheet
Faction:
Species: Human
on Sun Nov 10, 2013 12:24 pm
Okay, this is really, really cool.

It puts me in mind of the brown scout speeders from Star Wars (where, judging by your comments, I assume you originally got the idea) and a chopper motorcycle. The piping behind the seat is really interesting and well done, and the power cords add a lot of detail to the mid-section of the speeder as well. Overall, very well done, my friend!

on Sun Nov 10, 2013 1:51 pm
Thanks, Kojan! I got most of my inspiration, I would say, from the Clone BARC Speeders on Kashyyyk.

BTW, do you know how to get both minifig hands onto that handle piece?

_________________
Jesus Christ is the only Way to Heaven [see John 14]
P.S.S. Steadfast, my Flagship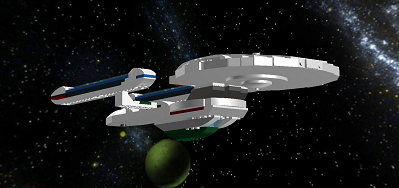 "All that is necessary for the triumph of evil is that good men do nothing."  ~Edmund Burke
on Sun Nov 10, 2013 3:25 pm
Wow, this is great! I love the shape of thing, and the fact that you used a motorcycle body backwards on a speeder. That's genius!
About the minifig: I re-created the rear of this vehicle in LDD to try to see what I could do about it, and I think I found the problem. The shape of the handlebars makes it so that if they are held by only one hand on one handle, the other handle would be slightly bent inwards towards the torso, as shown.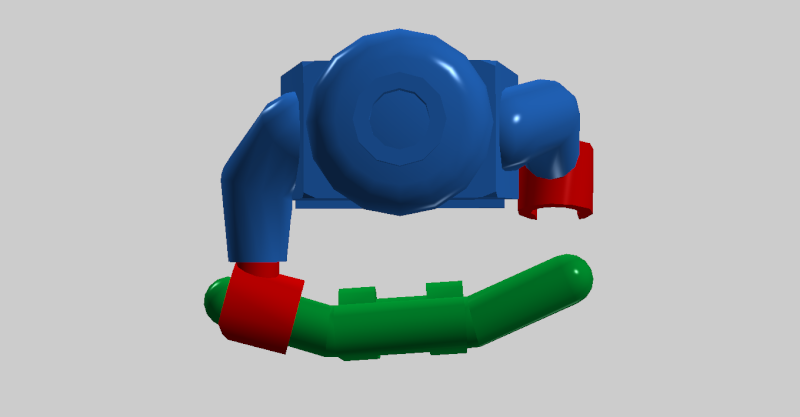 As you can see, the green handlebars are slightly turned inward. The angle of the minifig hand bending out from the wrist is not right for this to work, and puts the handlebars in the wrong position. LDD works in absolutes: either Brick A is in the right position to connect to Brick B, or it isn't. In this case, it isn't.
Hope this helped!

on Sun Nov 10, 2013 4:01 pm
first words seeing it: "OH COOL!" now to actually read the description.

Now that that's read.

Sweet speeder Scare! I love it! It's design is highly innovative/creative/add on some other cool adjectives

I LOVE this thing! It looks like the perfect patrol vehicle to cover large distances... great work! Even if speeders are more of a SW thing than a ST thing, it works, as you made it significantly different from, but clearly inspired by, the SW models. I look forward to zipping around on one of these nifty rides!
_________________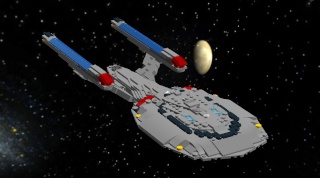 Dino27
"For honor,

   for valor,
 for cookies;  
   and for
friendship!
"   

on Sun Nov 10, 2013 7:44 pm
Nice, I like the unusual, serpentine sort of look to it. It also seems vaguely Covenant, especially if you think about their Super Carrier. It looks like a good speeder, but the name seems a little redundant. I would nix the Light Ground Vehicle part and maybe just call it a Fast Scout Vehicle (as opposed to Fast Attack Vehicle) or maybe a Heavy Scout Speeder (it looks more "heavy" in nature and force than most speeders, better armor, bigger, better guns, etcetera). You could then call it a HESS (HEavy Scout Speeder), since BARC is already taken.

FSV Ranger has a certain ring to it in my opinion, but HSS (or HESS) is more correct in my opinion......

But that was all only a suggestion, so you know, whatevs, it's your speeder, and it's still awesome either way.

Now, despite what Spud said, it is possible to get it to work, I've done it several times and if you don't' believe me *looks at Spud* (

) then look at my LAV Mortar. But other than just playing with it I don't' really know how tell you to do it. I usually put the minifigure on with hands up, and then just keep looking at how the hands are angled until I get it lined up right, and then just keep trying to get it on the handle bars by swinging the arms. If it doesn't work then mess with the hands more. Usually you can get it to the point where it's on but the hand is part way into the handlebars. (yes Spud, LDD is absolute, but when messing with the hinges and stuff that slides along other pieces it has a certain measure of error, in fact, it will sometimes put a piece part way into another piece.) Then by playing with the angle values (the best way for micro adjusting), you can get it to be on correctly without the hand trying to melt into the handlebars. Then check all your angles and mirror them on the other arm. You may also need to play with the handlebar angle as well.
_________________
Someday someone may kill you with your own gun, but they should have to beat you to death with it because it is empty.
~/Com|Ant~
Arik wrote:Sadly, it's a doomed attempt. The Illuminati infiltrated the US government before it even was the US government,
Permissions in this forum:
You
cannot
reply to topics in this forum