Guest

Guest

on Mon Dec 09, 2013 12:49 pm
This is the crew of the
PCG Nathan Hale
and
Nathan Hale-B
. When the original
Nathan Hale
was blown to pieces, most of the crew had already beamed off, meaning Captain Dolan was able to keep together the group she had grown to count as family. These are the senior members.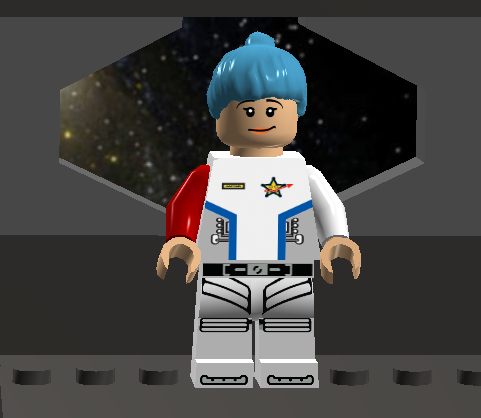 Sadie Baker-Dolan, Captain.
Sadie has commanded both
Nathan Hale
s. She began her Starfleet career as a diplomat, and the skill has saved her ship many times. She is married to the head engineer aboard the Nathan Hale, Joe Dolan. Sadie is generally quiet and thoughtful, but she has a bad temper that can make her quite loud at times. Crew members know to keep from angering her. She makes sure to know each bridge member and department head personally, and tries to help them when they are  having any kind of trouble. If PCG Command sends her an order she morally disagrees with, she more often than not ignores it or alters it to fit her standards. Her first command was the secondhand
PCG Baskerville
, which was promptly destroyed, followed by the
Nathan Hale
, also destroyed, and more recently, the
Nathan Hale-B
, which hopefully lasts a bit longer than the other ships that fell under her care.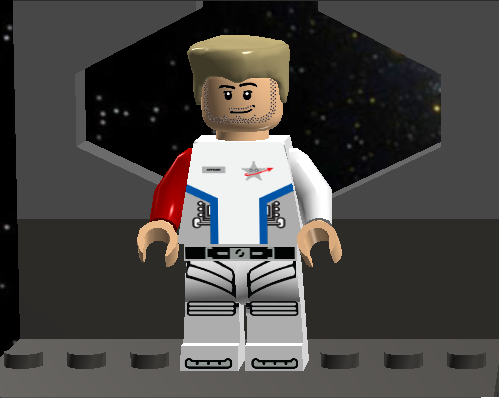 Kyle Testerman, First Officer, Head of Tactical.
Kyle grew up with Sadie (she considers him an honorary brother) and graduated in the same class at the Academy. He staffed a cargo vessel for a little over a year before he saved it by taking over for his unconscious captain during a pirate attack. After that, he was transferred to the
PCG Baskerville
, Sadie's first command, as the first officer. Kyle is outgoing and laid-back, but has zero tolerance for breaking rules. This has led to a few arguments with the captain, which have thankfully not been destructive for a long while now.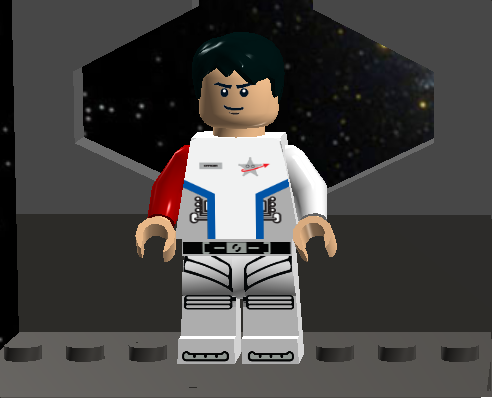 Joseph "Joe" Dolan, Second Officer, Head Enigneer.
Joe is two years older than Sadie and Kyle. He's extremely introverted and tends to get confrontational when people he doesn't know start demanding things of him, which has lead to occasional problems among the rest of the staff. He had a long rivalry with Kyle when he was dating Sadie, which reached its climax when the two refused to talk to one another during a dangerous assignment, but they eventually reached an agreement when he married the captain. Joe is a formidable opponent in hand-to-hand combat, but he is surprisingly kind to those he injures, even offering to personally see them taken care of. He is the creator of the ship's android, MAI, along with many starfighters, the most successful of which has been the Triton Class.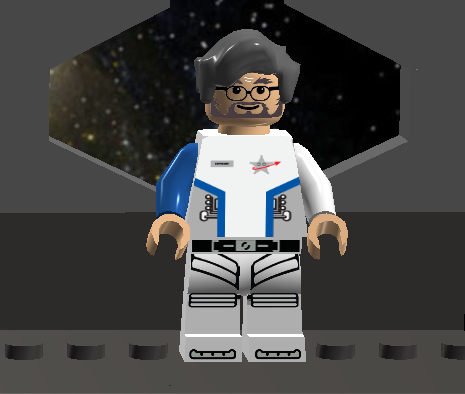 Donald "Pops" Richards, Chief Medical Officer.
Pops is the surrogate father of everybody on the senior staff. He genuinely loves each of them as family. He started as a starfighter pilot, but when his wife wife contracted a rare alien disease, he changed professions. He takes his job very seriously; nobody questions his rule over sickbay. He is always cheerful, even in the face of extreme hardship, and many believe he was assigned to the
Baskerville
to keep his younger crewmates in check.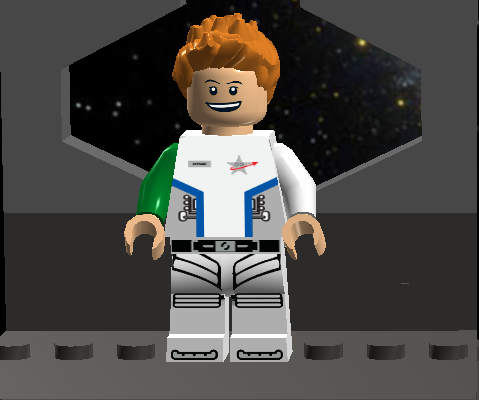 Blayne Gumm, Head Starfighter Pilot.
Blayne is the jokester on board. Everybody dreads their birthdays, because he will have a surprise party plan. Not necessarily on the day, but within the week. Once he's in the cockpit, though, he is cool, in control. He has a close father-son type bond with Pops ever since losing his father to a dogfight. Blayne is everybody's friend, and fiercely loyal to them all.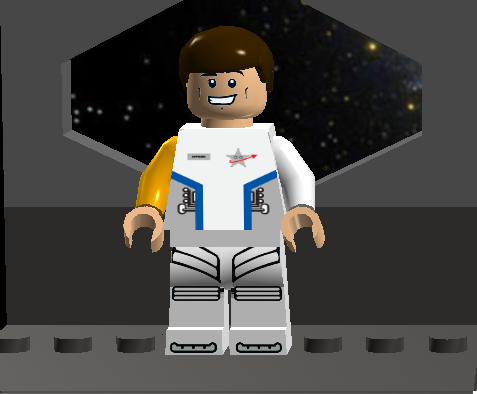 Patrick Bradshaw, Ops.
Bradshaw is the newbie, a package deal with the new
Nathan Hale
. Nobody really knows him yet, but he seems responsible and eager to please, and follows orders unquestioningly. His single father was killed by Borg, and his younger sister lives with him on board.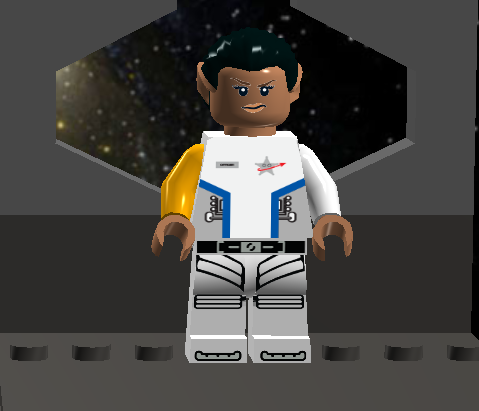 Caz N'Vak, Head of Security.
Reserved, intimidating, stern. All these things are Caz N'Vak, the Romulan security chief. She can scare anybody, and the crew knows not to cross her. She does possess a small degree of charm when she wants to, but that isn't often. Needless to say, Miss N'Vak is very good at her job.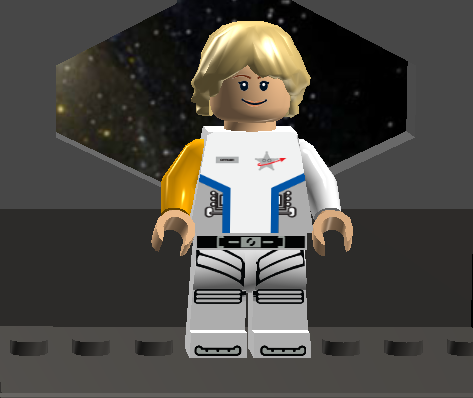 MAI, Communications.
MAI was built by Joe Dolan as an attempt to emulate the work of the renowned cyberneticist, Dr. Noonien Soong. MAI stands for Mechanized Artificial Intelligence, and that intelligence could enable her to run the
Nathan Hale
almost single-handedly, which she has done on multiple accounts. May possesses a positronic brain much like Data's, along with a stable emotions program. The only giveaway of her artificiality is her hair, which, for some unexplainable reason, is gold. Other than that, MAI seems completely human, and is friends with many of the crew.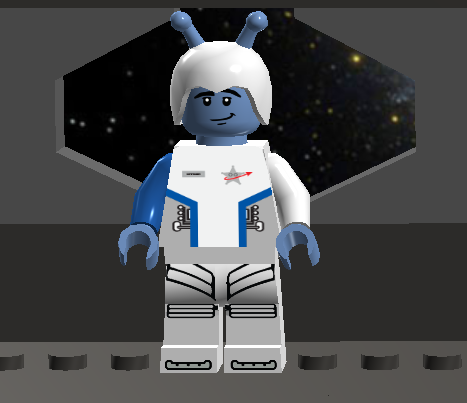 Kal'Vel, Head Science Officer.
Kal'Vel is another new addition to the crew. He's an extremely intelligent Andorian, but a bit awkward. He tends to get flustered when he is stressed, and he has a bit of a lisp that slips out if he isn't thinking about it while he's talking. Only time will tell if he truly belongs with the crew, but everybody but Trar likes him so far, so the odds are that he'll stay with Sadie's crew until the day the ship is destroyed.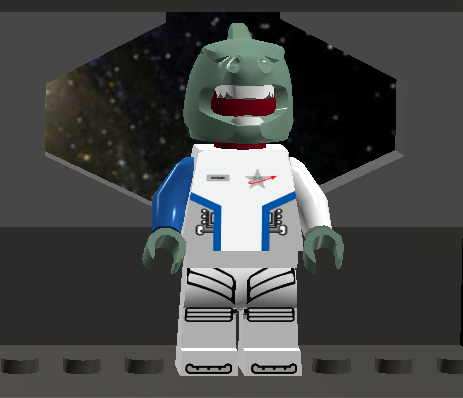 Trar, Second in Command of Security.
Sadie was unsure about having a Gorn assigned to her ship, but she was proven wrong. Trar is a great fit for his post; he is nearly indestructible and very intimidating towards threats. Between him and Caz N'Vak, enemies have little hope of succeeding. Trar is surprisingly small for his species, which makes him a bit insecure at times, but he hardly lets that stop him. His determination is his best quality, and he has a gruff humor that is becoming more prominent as he adjusts to his new post.
And that's it! The crew of the
PCG Nathan Hale-B
!
on Tue Dec 10, 2013 5:20 pm
A top-notch crew! Nice work!
_________________

on Tue Dec 10, 2013 6:11 pm
Deffinitly different than a typical star-fleet crew, good job! I like different (usually)

_________________
Someday someone may kill you with your own gun, but they should have to beat you to death with it because it is empty.
~/Com|Ant~
Arik wrote:Sadly, it's a doomed attempt. The Illuminati infiltrated the US government before it even was the US government,
on Wed Dec 11, 2013 4:13 pm
Well done! You have a well developed crew there!

 My ONE observation is the "disobeying orders" part... that's kind of what the PCG typically does.

 We are more of a team than a military unit, at least between commanding officers. Chances are pretty low that you would be assigned too much that was out of line with your personal beliefs  as a part of the Phoenix. But like every family, the even the PCG has been known to have it's quirks, so you're sure to get an order you don't like now and again, especially around stories. 

_________________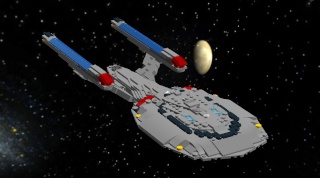 Dino27
"For honor,

   for valor,
 for cookies;  
   and for
friendship!
"   

Guest

Guest

on Wed Dec 11, 2013 7:08 pm
Thanks, all! I'm glad you like the crew!

Dino: Well, in the story I started, like, two summers ago give or take, Sadie had some trouble with disobeying orders and kinda yelled at a commanding officer. No, you won't get to read it, as I consider it garbage, but I can't see her now without that rebellious streak. Maybe it comes from the family aspect; considering she's pretty much the only female among our little group (and definitely the shortest, unless somebody is abnormally short), she probably sees the boys as brothers and feels she needs to prove herself (not to mention that hot temper of hers!). At least, that's how I feel among my hundreds of male cousins!

on Sun Dec 15, 2013 3:01 pm
Hey, that gives her fire, spirit, spunk... she's her own person with her own heart.
Yelling at a commanding officer? Tsk tsk. Sounds rather like myself once in a while.

I understand about old work, I too tend to be (perhaps too) critical of my work.  
And I'm not sure about height, Dino probably competes with her (or is at least closer to her than most humans) as he's 5'7''  (based off of myself IRL.... hoping the character grows a bit more,

 which would have to be retconned because the character is much older than I am

 )
_________________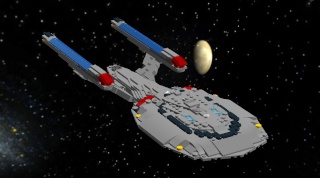 Dino27
"For honor,

   for valor,
 for cookies;  
   and for
friendship!
"   

Guest

Guest

on Mon Dec 16, 2013 9:44 am
Oh, Sadie's closer to somebody than I thought! She's a whopping 5'3" (which is unfortunately 3 inches taller than I will ever be, since I seem to have stopped growing...) She's probably very happy about that! She won't get a kink in her neck from looking up so far when she's talking to him!

on Mon Dec 16, 2013 3:50 pm
Short captains unite!

Now I'm having deja vu . I just had this same conversation with someone at a Christmas play the other night... weird...
_________________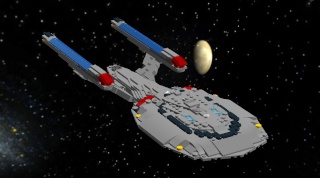 Dino27
"For honor,

   for valor,
 for cookies;  
   and for
friendship!
"   

Permissions in this forum:
You
cannot
reply to topics in this forum