on Thu Apr 10, 2014 6:44 am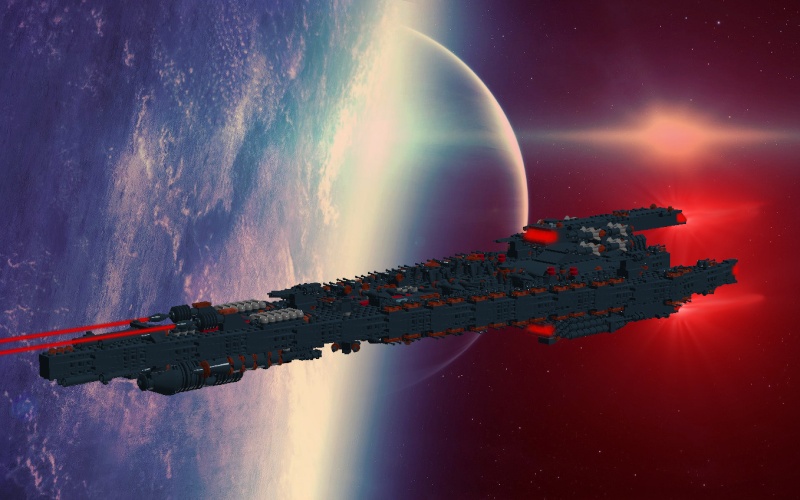 Credit to Gandalf for the original ship, the Tolkien. In my n00b days I stole it and modified it for PPT use, but later when I confessed to my crime (as I grew out of my n00b stage

), Gandalf said I could keep it.
The PPT Thunderhead was a gift from Gandalf to Commander Ant when he was first kicking off his fleet. It was a solid ship that needed only for weapons to be added, which saved Ant the time of having to build an entire new ship. Over the years the Thunderhead class has proven to be superb, with several from scratch ships built based on the original Thunderhead (previously a PCG Tolkien class ship). The original Thunderhead still has the same skeleton, but has been constantly updated with improved armor, computers, mechanics, and other systems, as well as weapons. It's job is simple, bring unimaginable amounts of firepower to battle and crush all opposition with sheer strength. With powerful weapons, stalward defenses, and rock structure the Thunderhead brings violent storms to anything it dares, crashing over them and wiping out all in it's path with terrifying force, like a tornado to a shack.
The Thunderhead balances between a battleship, a carrier, and a missile/torpedo ship. It has a large hanger with it's main entrance on the underside, and two smaller entrances on top. It also carries a much larger Marine compliment than most other ships in proportion to it's size. It also balances well between a focus on powerful, forward firing weapons and less powerful but more flexible turrets, which can attack multiple targets at once instead and don't have to wait for the entire ship to swing around and point to do so.
The Thunderhead's primary turrets are it's sixty-nine Beam Turrets. There are twelve to a side (top right, top left, bottom right, bottom left) forming the main banks, with a few more scattered in strategic positions at the back or around the ship in other places. Another four Long-Range Beam Turrets are placed up front. In addition to these are the projectile based turrets, commonly called Bolt Turrets, firing powerful shells of various types, usually Anti-Tau bolts, hence their name Bolt Turrets. There are twelve of these turrets grouped into four banks, three to each main bank of beam turrets. Another four Long-Range version of these turrets flank the two naccles, and another two are located near the nose of the ship. (One on top, one on the bottom).
The Thunderhead is also equipped with two alpha-shock cannons, which are centered around alpha mollecules. These cannons are extremely effective at nullifying enemy shields, as well as disabilzing it's engines and various other components on the ship, acting similar to EMP or Ion cannon blasts. For more damage, two Isokinetic Beam Cannons are also located on the top of the nose, slicing through enemy shields and armor as easily as a cutting laser through ice. Located on the top and bottom of the nose are a pair each of plasma cannons and railguns, for extra firepower while the larger weapons recharge. Underneath the nose are located to Space Distortion Cannons, or SDC's, which forcibly twist, compress, stretch, ball-up, and otherwise distort the fabric of space, creating such a stress on a ship or other such object in an area that it is torn into peices unless correct countermeasures are taken. These cannons are extremely effective, but have a long recharge/power-up time and require alot of matience. Essentially, your best hope for not being destroyed by one is hoping it has either just been fired or it's broken. These both flank a Tacrp type Cannon, adding even more to and to the variety of it's firepower.
Last are missiles and torpedoes. PPT ships always have several torpedo launchers scattered around the ship, firing various unguided but potent war-heads. These along with Beam turrets are the staple of Atnlay weapons. The Thunderhead's bottom naccle also holds two sets of twelve missiles tubes, making for 192 TM missiles total. Completing the Thunderhead's powerful and extensive array of weaponry are it's eight XM missiles. These are weapons of mass destruction, used to destroy entire fleets, and turn planets into small moons. One can easily cause a star to detonate into a violent and quickly growing super-nova. But not only are they powerful, but are smart, fast, and equipped to endure. They have their own slip drive, capable of flying lightyears on their own before detonating. They include small shield systems and armor to make it harder to shoot down, as well as small automated weapons to shoot down munitions directed against them as well as enemy fighters that might try to destroy them. As for larger ships, they simply outmanuver them, or outsmart them. They are capable of luring ships to one place before using their slip drive to appear on the other side of their target, while the defending fleet is away. They arn't simply smart enough to dodge weapons fire and plot paths, but make tactical decisions in order to reach their target.
For defenses, the Thunderhead class ships have thick armor, and four Type II shield generators. This, coupled with eight Omega Crystals, provide an impenatrable defense. Each generator provides six layers of shields. The Thunderhead is not espeically special in it's equipment. It has the usual cloaks, stealth technology, advanced targetting technology, but is not as good as other, more specialized ships. It is not as fast as other PPT ships either. It can reach a blistering warp 26.2 in warp, or use it's slip-drive for similar speeds. It's impulse engines can get it up and going pretty fast, given enough time to accelerate it's massive bulk, but it is not agile, though more so than other ship's of it's size of the Yor, PCG, ETX, or Borg. It does have two two-point drives, as well as a wormhole generator. It's point drives are about average, and it's wormhole generator is second most powerful in the PPT forces.
Stats
Weapons:
-69x Beam Turrets
-4x Long-Range Beam Turrets
-12x Bolt Turrets
-6x Long-Range Bolt Turrets
-4x Railguns
-4x Plasma Cannons
-2x Isokinetic Beam Cannons
-2x Alpha Shock Cannons
-2x Space Distortion Cannons
-1x Tacrp Cannon
-24x TM missile tubes
--192 missiles
-8x XM missiles
Defenses:
-110 Shocz of armor (about 2.42 meters of armor, or just under 8 feet)
-4 Type II shield generators
--24x total shield layers (a shield layer is one each of magnetic and energy shielding)
--8x layers of absortion shielding
Propulsion:
-2x Warp Naccles
-2x Slip Drives
-2x 2-point Drives
-2x Sublight Drives
-Worm Hole Generator
-Top Speed: warp 26.2
Spoiler:
_________________
Someday someone may kill you with your own gun, but they should have to beat you to death with it because it is empty.
~/Com|Ant~
Arik wrote:Sadly, it's a doomed attempt. The Illuminati infiltrated the US government before it even was the US government,
Join date

: 2013-05-19


Faction

: Phoenix Command Group


Posts

: 870


Location

: Adventure Comix Studios

Character sheet
Faction: Phoenix Command Group
Species: Human
on Thu Apr 10, 2014 10:48 am
I haven't read the specs yet obviously, but I don't typically base a ship off the specs.

(I mean, specs are a big part of making a ship, but anyone can slap a 2x6 plate on the rear of a 2x8 brick and call it a starship and give it "M0AR LAZ0RZ THEN TEH D3ATH STARZ!!!! R0FL"

)
As far as design goes... I do and I don't like it. I'll have to reserve final judgement until you upload the .lxf.
The overall design is just... too simplistic from what I can tell, and too boxy for it's type. I think the wing pieces on the front should be staggered to create a slanted look. I like the giant cannon thing on the bottom (assuming that's what it is.)
However, the cannons on the upper deck, the forward facing ones just aren't doing it for me... there's something about them that's off. I think it would be better if they were larger and either on the sides of the ship or much farther back.
From what I can tell, I really like the aft section. (Again, I'll have to wait until I can see more)
I really do like some of the detailing on the upper deck (usage of the phone piece is really sweet), most of the other detailing on the upper and lower decks I can't make out.
So, I think that's about all I've got for right now until you upload more pics and the .lxf.

_________________

"The enemy gate is DOWN "
Andrew "Ender" Wiggin
Star-Hunter wrote:We channeled pure Jred into Texas to keep it red
was scary for a second
on Fri Apr 11, 2014 12:46 pm
I'll comment when I can see and read more.
_________________
Dino27
"For honor,

   for valor,
 for cookies;  
   and for
friendship!
"   

on Fri Apr 11, 2014 7:28 pm
Bump. Moar pictures and description+stats up.
_________________
Someday someone may kill you with your own gun, but they should have to beat you to death with it because it is empty.
~/Com|Ant~
Arik wrote:Sadly, it's a doomed attempt. The Illuminati infiltrated the US government before it even was the US government,
on Fri Apr 11, 2014 9:34 pm
First of all, "PPT ships always have several torpedo launchers scattered around the ship,"
SEVERAL?! HA HA HA!!!!
Also, "firing various unguided but potent war-heads." Even old Starfleet photon torps are guided... you might want to reconsider this point... you're playing an ultra elite, uber powerful, super advanced alien race... and you are still using dumb torps... FOR SHAME!

Next... I feel that this ship itself is... well... only good. It seems over armed, overly boxy and not shaped out enough. It looks like a lot of really cool weapons strapped to a very flat and uninteresting frame. It wouldn't hurt to add some more detail to the overall ship, although the weapons and shields are brilliantly designed and look great. On the whole, this ship just doesn't scream "I AM A GLORIOUS ATNLAY WARSHIP!" It's good. It'd be very decent work... for an eh builder. But I know what you are capable of... you've blown me away many a time before. This just isn't the usual AA=Awesome work. Please don't be offended, I'm not trying to put down your work, rather, I am encouraging you to do even better.
Now, onto the positives.
I LOVE the top view! It's a sleek ship from that angle, and is a nice take on the classic triangle/dagger look. And the Photoshop work is simply stunning. It's clearly a heavy hitter, and the weapons reflect that. Good work on giving her the chops to take on... well... just about anything this side of anywhere. Keep on building my friend, I enjoy seeing your work.
_________________
Dino27
"For honor,

   for valor,
 for cookies;  
   and for
friendship!
"   

on Fri Apr 11, 2014 10:31 pm
Yeah, the ship itself is basically Gandalf's original Tolkien (see first paragraph on credit to him), with studs on teh bottom so I can mirror the turrets n fun stuff there. I may undertake to sleek it out a big, make it less boxy, as I agree it is pretty simple. But I'm ok with simple, rock solid. I'mn not really sure how I could keep that and make the ship better, it'ld take some indepth redesigning and some ingeniousness. My most revamped ship was probably the Enternal Night, so if that's the standard you're holding me to...well...then...good job, I should be held ot a higher standard (as should I hold you to one), but the rest of my revamped ships arn't as awesome as the Eternal Night, they're mostly just re-weaponizing and making bigger from my old lab ships. AfterI get all them up and some other stuff I've got, I'll start playing with more original/better designs.
Not that I'm saying this isn't meh, I agree with you, I could do better, but I'm just getting this stuff out now and then I'll try to get better stuff out.
As for the unguided torpedoes...I was under the assumption that the topedos where aimed with advanced aiming systems that computer good firing points to hit fast moving targets far away, but the torpedo itself did not actually change direction once in flight (and any torpedo I can recall seeing reflects this). So unguided torpedoes, yes, lack of advanced targetting systems? no. Kinda like modern artillery. Good aiming systems, they put the shell where it needs to go, but the shell itself doesn't change flight (well, most of them, there are some guided artillery shells, but that's why the Atnlays have missiles.

) The torpedoes are on the very low end of the weapons technology spectrum for Atnlays yes.

They're just a basic weapon, more advanced and powerful but more limited in numbers being the TM and XM missiles, just as there are Bolt Turrets and SDC's, but they are limited in the amount they can fire at one time or the amount of ammo they have....They're just when you need to launch a barage of deadly explosives to augment your turret fire....which is all the time, every time.

Now, "several torpedo lanchers s? Hahahaa" I can't tell if that was a good HAHAHA like there's way more than several? or a sarcastic HAHAHAHA because you couldn't believe I was using torpedoes?

_________________
Someday someone may kill you with your own gun, but they should have to beat you to death with it because it is empty.
~/Com|Ant~
Arik wrote:Sadly, it's a doomed attempt. The Illuminati infiltrated the US government before it even was the US government,
on Sat Apr 12, 2014 10:31 am
I knew that it was a refit of an old Gandalf design, it still seems that some layering could be done on top of the original. But I could just be being overly pickey here, it's a good ship, I'm just so used to your 100% custom, modern work.
Actually, we see photon torps change direction in Voyager, Message in a Bottle.... of course Voy ignored canon trek rules... who knows.
That was a good sarcastic, as we both tend to go all out with torps.

_________________
Dino27
"For honor,

   for valor,
 for cookies;  
   and for
friendship!
"   

on Sat Apr 12, 2014 8:01 pm
Nice ship, I like the nice tech. (and nice weapons)

On the subject of torpedoes, in that DS9 episode "For the Uniform" where Sisko is chasing after Eddington, there's a part where Quantum Torpedoes are fired at a target and to me, they
seem
to be changing direction, at least in an arc, before they hit their target. (a point on a larger spherical object)
I always thought torpedoes were equipped with limited tracking devices, like missiles, so they could lock on and navigate towards a target. The reason we never saw them turn before might just be because they never
had
to turn. In that Voyager episode, were the torpedoes fired from the Prometheus? She was pretty much a highly experimental
warship
, so it wouldn't be surprising if she was armed with highly experimental photon torpedoes too that could turn.
It's probably cheaper to just go with unguided, but effective torpedoes though.

on Sun Apr 13, 2014 1:57 pm
@dino: I understand.

Like I said, my next few ships will probably be boring like that, after that I'll start building new ships that will (hopefully) look cooler.
As for the torps, I haven't seen that episode.

@talmid: Thanks.

Well torpedoes would certaintly be affected by gravity, so depending on the size of said large spherical object they could very well arc.
_________________
Someday someone may kill you with your own gun, but they should have to beat you to death with it because it is empty.
~/Com|Ant~
Arik wrote:Sadly, it's a doomed attempt. The Illuminati infiltrated the US government before it even was the US government,

Permissions in this forum:
You
cannot
reply to topics in this forum