on Tue May 06, 2014 6:21 pm
Pictures:
This pirate Mamba features custom upgrades in the weapons and energy departments.  The four 100mj guns have been swapped out for the latest and greatest 745mj guns, complemented with two ion cannons.  In the aft section, a bulletproof nutronium-block Coredromatic replaces the original electric powerhouse, providing much needed strength and speed.  Aside for interior controls, the remaining 90% of Terran electrical systems have been gutted, replaced by more sophisticated and reliable systems.  A fuel tank has been built in behind the cockpit.
To accommodate for these changes several gray duroplastic body panels (left unpainted for inexpensiveness) were used wherever the body needed a change in shape.
All these upgrades are available in the Elapid Package, sold by independent traders to any Mamba owners from an asteroid base in Sector E-13, in space just outside of Federation jurisdiction.
Join date

: 2013-05-19


Faction

: Caldera Imperial Republic


Posts

: 425

Character sheet
Faction:
Species: Human
on Sat May 10, 2014 5:31 pm
While the design is good and still has the original Mamba's feel, I would recommend a number of changes.

1. Color scheme: We've got four or five colors going on here, and I feel like it should be reduced to about three. I would change all of the pieces that are in the default LDD black to the jet black color used on the cockpit roof. Doing so would make the grays contrast better and stand out.

2. Reduce bulkiness: The original Mamba didn't have this issue, but the Elapid does: the weapons package looks too big for the underside. I think that it looks that way because they are all clumped together. To fix this, I would distribute the weapons to both of the wings, keeping maybe one or two on the underside. This would make it seem more balanced.

Besides those edits, I love this Elapid variant. The engine block in the back looks cooler than the original (if that's possible) and the fins are as amazing-looking as ever. Great work!
on Sat May 10, 2014 8:25 pm
Thanks for the feedback!

Regarding 1., remember the Mamba
is
predominantly used by space pirates who I doubt really care about the color scheme, unless they want to represent their specific clan. The Elapid package mainly replaced some body panels (the unpainted gray ones) and the black ones are just the original original panels before they were given Earth-camo by its original Terran users. I get what you're saying though, and the more I think about it the more I agree with you.

2. Again, I'm inclined to agree with you here too. I'm debating with myself whether the smaller-but-more-powerful ion cannons should be moved or the larger twin-745mj rated guns should move.
Either way the aforementioned independent traders in the OP have taken your feedback and feel it is time to cobble together an Elapid 2.

on Sun May 18, 2014 6:27 pm
What Kojan said, awesome modernization of a great fighter. But it could use a few cosmetic changes. Overall awesome.
_________________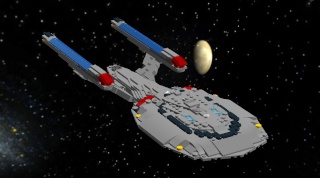 Dino27
"For honor,

   for valor,
 for cookies;  
   and for
friendship!
"   


Permissions in this forum:
You
cannot
reply to topics in this forum