Join date

: 2013-05-19


Faction

: Caldera Imperial Republic


Posts

: 425

Character sheet
Faction:
Species: Human
on Sat May 10, 2014 9:35 pm
"Ulrich" Heavy Armored Personnel Carrier-3
Spoiler:
Download: http://www.mediafire.com/download/doj0xvc2gvjbfnq/HAPC-3.lxf
The "Ulrich" HAPC-3 is one of two primary APCs used by the Imperial Army and Marines. While the LT-155s can be modified to serve such a role, the Ulrich is specifically built to absorb enemy fire and deliver its troops onto the battlefield. With massive tires (that are nearly indestructible), four-wheel drive, and a high ground clearance, the Ulrich can easily navigate rubble, trenches, or other obstacles, regardless of the environment. A crew of three operates the vehicle (commander, driver, and gunner), while 12 infantry or 6 marines can ride in the back. Three firing ports are located on either side of the vehicle, so soldiers can add to the power of the 50mm railgun located on the roof of the vehicle. Similar to the LT-155, the Ulrich can be modified (though less-extensively) to serve other roles, such as as [sic] a command vehicle or ambulance.
Crew: 3 (plus 6-12 passengers)
Weapons:
1x 50mm railgun
1x Rapid-Cycling AutoGun
Armor:
75mm
Top Speed:
80mph
on Sat May 10, 2014 10:17 pm
I find your ability to create well armored, bulky, hulking, and powerful looking vehicles infuriating! My outsides consist of flat, smooth, boxy walls that look much less impressive than your LT-155s, tanks, and now this! I'm going to go pout in my captain's char.

Jealousy aside, this vehicle is awesome! Sheer awe inspiring! It makes me think of a cross between an MRAP and a firetruck. (with all of it's sheer power look, nevermind the firehoses and role as a fire-fighitng vehicle and not a powerful hauling vehicle or battle vehicle.) I wouldn't really say that it's ground clearance is that much, just by looking at it, I'l say a pickup with a moderate lift kit is higher than it. But that's ok, it looks like it just pushes anything out of it's way that it can't simply roll over. It gives it a lean, mean, ground-hugging power machine look, like a rhino, very solid and not top-heavy looking (as opposed to the LT-255s and 155s, which look a little top-heavy). My only other complaint is it's mere four wheels. While I doubt that more wheels would add to it's attractiveness, I think in merely practical terms it would be better to have atleast another set of wheels, or maybe tracks, similar to a Stryker IFV/APC. It does resemble an immensy powerful and larger uparmored Stryker than it does a Humvee or MRAP in size, attributes, and function. I do love the turret on it as well! Very nice, and it fits most beautifully. But is that an autocannon beside it? (that you forgot to mention?) or is it some sort of sensor of sort, like perhaps a laser range finder or something?
_________________
Someday someone may kill you with your own gun, but they should have to beat you to death with it because it is empty.
~/Com|Ant~
Arik wrote:Sadly, it's a doomed attempt. The Illuminati infiltrated the US government before it even was the US government,
Join date

: 2013-05-19


Faction

: Caldera Imperial Republic


Posts

: 425

Character sheet
Faction:
Species: Human
on Sat May 10, 2014 11:22 pm
Wow, thank you for your high praise!

Yeah, this thing is a monster, and the grille on the front of the vehicle does help push objects out of the way. As for the top-heaviness of the LT-155s, this is the exact problem I sought to solve while constructing the Ulrich. The Codicil was never meant to be a true APC, and it shows. A massive viewport is just an invitation to anti-armor units to kill the driver, the armor is too thin to resist some of the larger caliber small-arms, and it was too small to carry a full squad of soldiers. In designing the Ulrich, I was inspired by multiple vehicles (I just realized how artsy that sounds

). The Mammoth from Halo 4 was a big one, as well as the M577 from the Aliens franchise. Additionally, I liked the turret-on-top idea of a LAV III, so I used that as well.
My original intent was to go with an eight-wheel design, inspired by the amazing-looking German SdKfz 234. However, I quickly realized that the large number of wheels left little room for an interior, and the design looked like a cube with wheels. Instead, I scrapped it and went with the four-wheel design you see here.

As for the turret, I basically took it from my LT-155/MGS. I really liked that gun when I made it a few months ago, kept the similar design (I up-scaled it, of course) and stuck it on the roof. I updated the stats of the vehicle just now so that we all have a better idea of what this thing's capabilities are.

Again, I appreciate your thoughts and praise for my vehicles! I can't wait to see some of your more recent creations!

on Sun May 11, 2014 4:53 pm
Ooooo, nice! That thing looks like a boulder with big guns on it. When I look at it, I think of the sound a shotgun makes when you cock it. :p
_________________

on Sun May 18, 2014 6:40 pm
That's awesome!!! I was thinking the same thing as AA about the wheels, when I first saw it it needs to be a 6x6. I'd also add some tiles to the roof. And I'd add some side mounted machine guns, but other than that, I LOVE this beast of a vehicle. She's very impressive, and intimidating. WELL done!
That armor, the turret, and the whole massive solid steel frame... niiiiice
_________________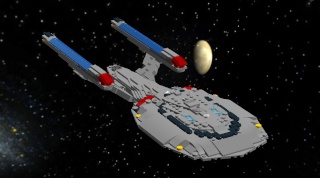 Dino27
"For honor,

   for valor,
 for cookies;  
   and for
friendship!
"   


Permissions in this forum:
You
cannot
reply to topics in this forum