on Mon May 27, 2013 10:57 pm
Introducing, the YPI-1 Predator MK I Interceptor! Yaka Predator Industries' first vehicle.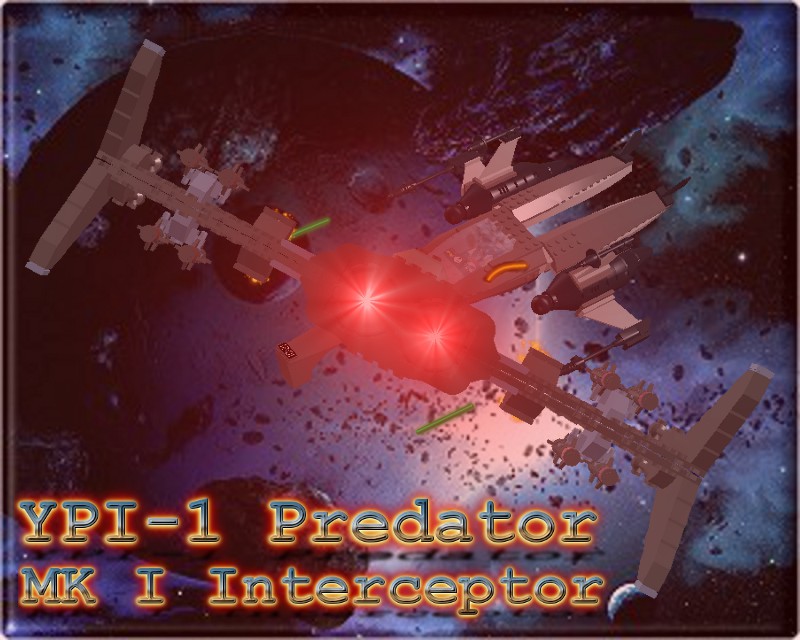 Credit for the Yor fighter (being attacked by the Predator MK I) to Gandalf.
This was Tyson Malcor's first vehicular design. The Predator platform
was created whilst he was making his own personal fighter before the PCG
was even formed. This design, as was all others, was given over to Yaka
Industries when it was formed, and Yaka Predator Industries was formed
as a sort of sub-division. The MK I Interceptor is, like all
interceptors, used for defensive, short-notice and short range purposes.
It is meant to intercept (hence the name) attack craft before they
reach their target and destory them. It is nimble and quick, and has a
full inch of Grade A Titanium armor with a small internal shield
generator to complent it. It's weapon systems consist of eight YPI-M1
Multipurpose missiles, four missile ports for smaller but still deadly
missiles, four bolter cannons for punching through spacecraft with
heavier armor and sheilding, and eight bolter machineguns for shredding
other spacecraft. The missile ports can load several types of missiles,
depending on the selection, from the internal magazines and fire them.
This also allows for more missiles to be carried than if just carried on
the wings.
The YPI-M1s are large, but each one almost
always gaurentees a hit, and kill. An Ion drive propels it at
high-speeds, even for a missile, while it's war-head packs enough punch
to punch through even the heaviest of armor and destory the spacecraft
with it. A highly advanced computer system can strategically plot
interception courses with craft instead of just trailing it, and re-lock
should it lose it, although it can detect the difference between modern
"chaff" and other decoys and the real target. It can even locate other
weapons fire, missiles, and such and use that in it's course plotting.
It is also very agile itself and can dodge incoming weapons fire,
anti-missile missiles, and other obstacles.
One of the
unique features on all Predator craft are their large fins, used for
steering, stablizing (especially in atmospheric conditions), and
cooling. As the heat is transfered from things like the cannons,
engines, generator, and such to the cooling fluid it of course heats up.
The cooling fluid is then cycled to the fins where they run near the
surface up and down. Space, except near objects such as stars, is
extremly cold. The cooling fluid, being near the surface of the fin for a
while, radiates it's heat out to space and becomes itself cool again.
It is then cycled back to the area where it is needed. This gives all
Predator craft an advantage over any other aircraft because it can fire
longer and harder than others. Not to mention go longer before it burns
it's engines out.
Stats:Weapons:
8x .70 Bolter Machineguns
4x 60mm Bolter Cannons
8x YPI-M1 Multpipurpose missiles
4x Missile Ports
Defense:
1inch Grade A Titanium armor
1x Internal shield generator
Propulsion:
2x Ion Engines
Spoiler:
Spoiler:
Diagram
Spoiler:
_________________
Someday someone may kill you with your own gun, but they should have to beat you to death with it because it is empty.
~/Com|Ant~
Arik wrote:Sadly, it's a doomed attempt. The Illuminati infiltrated the US government before it even was the US government,
Join date

: 2013-05-19


Faction

: Caldera Imperial Republic


Posts

: 425

Character sheet
Faction:
Species: Human
on Mon May 27, 2013 11:35 pm
Nice, nice. I guess this exceptionally fills the role of a fighter-bomber. A lot of the tech is outdated, but overall, I like it.

on Tue May 28, 2013 6:46 am
Its not really a fighter-bomber though before I lost all my files I had a fighter-bomber (which was bigger) in the works. I think it was the MK III. This is supposed to be an interceptor, intercepting star-fighters/bombers and larger freighter-like ships, (not quite capital ships, but closer to millennium falcon size). The YPI-M1 missiles aren't meant for fighting capital ships, but for targetting fighters, bombers, and afore-mention larger ships. In a pinch it could serve a bomber role though and take on capital ships.
_________________
Someday someone may kill you with your own gun, but they should have to beat you to death with it because it is empty.
~/Com|Ant~
Arik wrote:Sadly, it's a doomed attempt. The Illuminati infiltrated the US government before it even was the US government,

Permissions in this forum:
You
cannot
reply to topics in this forum