on Wed Aug 13, 2014 9:59 am
This is just some random satellite I built a long time ago during my early years at the LUCL (or mid-years on Lego.com, because I was on the DbM gallery for at least 3-4 years). The idea with the alternating white and blue panels were inspired by something I saw on the DbM gallery.
Anyway, I'd imagine that this would defend Terra from ETX forces or orbit Mars to fight off the ETX. The Mars Mission Team could use it for surveillance as well or for orbital storage and supplies.
It could also alternately be used by the Galaxy Squad's Orange Team to take out fast and agile bug ships, thanks to its various armaments.
In general, the satellite makes an excellent battle station. It is completely self-sufficient, energy wise, is well-armed (at least enough to fend off small ETX ships and fighter craft), has various communication systems and sensors to transmit data or acquire data, and has propulsion in the form of a small engine in the rear. Cheap and easy to manufacture, the MO-8652 is integral in the defense of Terra and her colonies.
The satellite can split into modules for easy assembly in space. Solar panels can also be separated, but I forgot to do that part.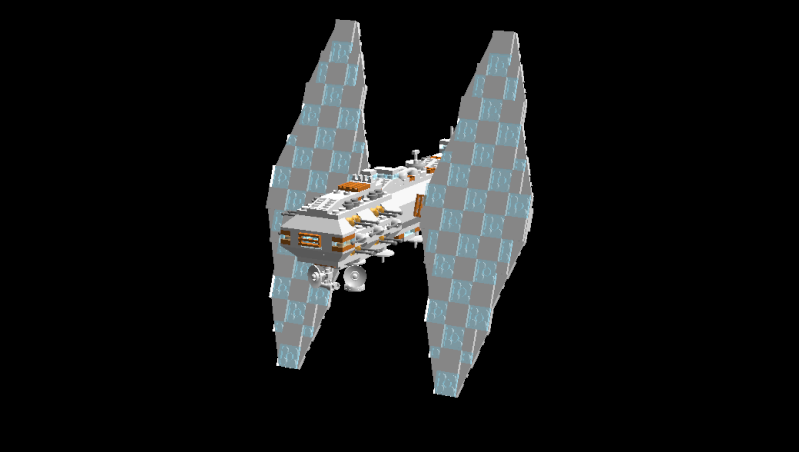 the SAT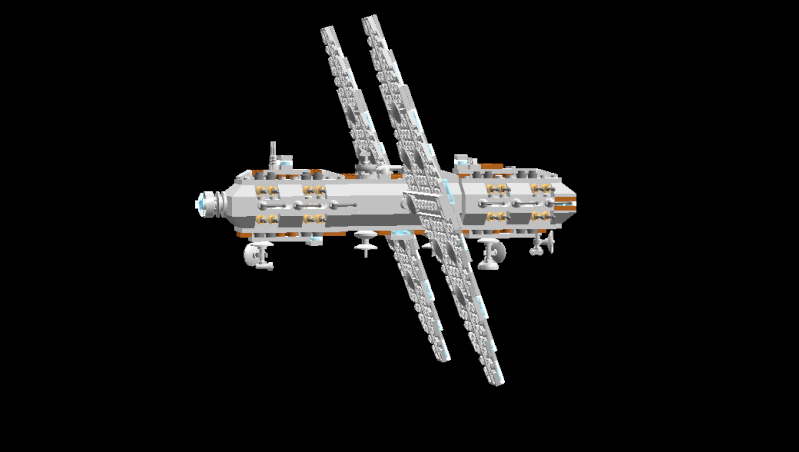 starboard-aft view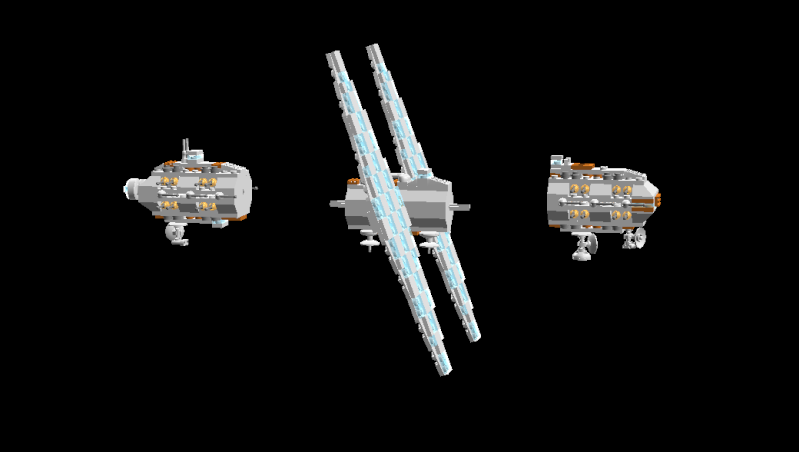 the modules
Specifications
Manufacturer: Mars Mission Production Inc. (?)

Produced: probably sometime after the Crystalien Conflict, I'd imagine early in the First Interplanetary War (between Terra and Mars/ETX) and then production again during the Second Interplanetary War (between Terra and her colonies, probably terraformed Mars/Venus)
Cost: I'd imagine pretty cheap, but IDK
Length: 340 meters
Beam: 280 meters
Height: 325 meters
on Wed Aug 13, 2014 11:07 am
Niiiice... very nice. Fairly simple, but well done. I do feel that it would benefit from a big space-space/space to ground gun though. As it is, it's armament looks a little light... yes I just said that to you.

_________________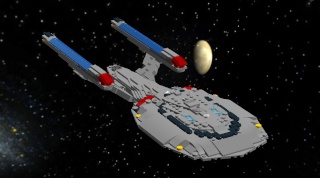 Dino27
"For honor,

   for valor,
 for cookies;  
   and for
friendship!
"   

on Wed Aug 13, 2014 11:47 am
@Dino: Thank you! This is from a long time ago though.

The only changes I made today were to the orange.

Anyway thanks! Well, I like making sure my
enemies
...err...
competitors
are less...err...competition?

Don't worry. I'm making a new satellite which doesn't have the space-to-ground cannon, but something...similar.

Join date

: 2014-05-27


Faction

: Phoenix Command Group


Posts

: 1012


Location

: Classified

Character sheet
Faction: Phoenix Command Group
Species: Khent-sa
on Wed Aug 13, 2014 1:54 pm
For an early design this is very well done! I like it!
_________________
~Tetrahedron the Deceiver,
Locutus of Geometry
, Chief Librarian of the Phoenix, Mathematical Bloodletter, First Captain of Vanguard Fleet
Meanwhile, on the chat....
Arik wrote:I'm ready to get back to worldbuilding now...
Tetrahedron wrote:I'm not sure if we should interrupt Ant like this...
He might kill us with his cow bombs
Star-Hunter wrote:"He might kill us with his cow bombs."
I'll take phrases I never thought I'd hear in my lifetime for $500
on Wed Aug 13, 2014 2:24 pm

Permissions in this forum:
You
cannot
reply to topics in this forum