Join date

: 2013-05-19


Posts

: 381


Location

: Aboard the IFS Varda, viewing construction of the next flagship.

Character sheet
Faction:
Species: Human
on Thu Aug 14, 2014 3:54 pm
F-2 Zenith MkII
The F-2, an unofficial counterpart to the F-1's sluggishness, is designed purely for A2A vacuum combat. This low-versatility/high-specialization (LV/HS) design, while restricting its usability in wartime, nevertheless makes the Zenith a monster in anti-starfighter operations. Trading off virtually all solid armor for several thin layers of ablative coating and two solid shield generators reduces both weight and cost, and the addition of multiple thrusters in locations generally not used in fighters (inside the foils, tip of the main body, etc) allow for an enormous amount of maneuverability, giving the highly specialized pilots access to tight turns and controlled spins not available to most fighters. The four foil-mounted energy weapons, F6B blasters, are powerful if used correctly (the 100 rpm rate of fire makes accuracy important), and the nose-mounted F5K fires armor-piercing kinetic rounds aimed at cockpits and engines.
Though the single Sangron Fig-6 thruster may not seem like much, the built-up stern houses a powerful prototype propulsion system. Harnessing molecular vibrations of quantum particles, the F-2 actually has
integrated
thrust, meaning the power and acceleration are produced from the nacelle housing, with no visible exhaust. The downside to this surprisingly cheap, powerful system is that it drains large amounts of fuel in very short periods. As a result, though carefully balancing the Fig-6 with the molecular propulsion prolongs the fuel's longevity, the F-2 is a strictly short-range fighter, carrying out hit-and-run A2A missions.
Despite its disadvantages, in lack of both range and versatility, the F-2 is still a popular fighter among many DI Captains because of its high effectiveness against enemy starfighters, and for its noticeably low cost. A common tactic used by Captains with larger hangar bays, during prolonged engagements, is to house two squadrons of F-2's, and simply cycle them out, allowing a constant Zenith presence without risking fighters dead in the water.
Class- Fighter
Length- 11.2 meters
Maximum acceleration- 85 G
Engine Units- Sangron Proto/Mol
Thrusters- Sangron Fig-6
Shielding- Sangron FS-nc2, FS-k4, FS-e8
Armor- 2" of layered ablative covering
Armament-
Sangron F-7B blasters (x4)
Sangron F-5Ka cannon (x1)
Sangron F-4B dual blasters (x2)
Crew- 1 pilot, advanced on-board AI
Life Support- 36 (short-range fighter standard)
Spoiler:
Spoiler:
Spoiler:
Spoiler:
Spoiler:
LXF:
http://www.brickshelf.com/cgi-bin/gallery.cgi?f=531480

_________________
I like cookies.
on Thu Aug 14, 2014 4:21 pm
I like it! The shape is really cool, and I love the SNOT work everywhere. Honestly, I think the only things missing are some colors. You know, to snazz it up a bit.

Great work!
_________________

on Thu Aug 14, 2014 5:46 pm
I love it! I believe this was based off of another piece by you??? (please say yes...

) Well, right or wrong, I love it! My one suggestion is: switch out that one tiny engine for a strip of light *engine* across the back of the fighter, as the current engine just looks out of place in my opinion, it's just comically small and... just doesn't look right to me on this otherwise incredibly awesome fighter.
Well done! And again, nice stat balancing! It's a BEAUTIFUL build!

_________________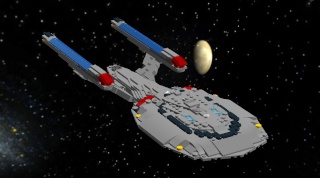 Dino27
"For honor,

   for valor,
 for cookies;  
   and for
friendship!
"   

Join date

: 2013-05-19


Posts

: 381


Location

: Aboard the IFS Varda, viewing construction of the next flagship.

Character sheet
Faction:
Species: Human
on Thu Aug 14, 2014 7:42 pm
Ah, thank you for the thruster idea, Dino. I was wondering how to fix that without ruining the aesthetics completely, and the only way I could think of was that less-than-adequate engine block. I'll make the changes and issue a callback. Thanks!

_________________
I like cookies.
on Fri Aug 15, 2014 6:45 pm
Wow, great starfighter, Supe! The design is so original, and yet resembles your other SF work. I like your SNOT work and the way you smoothed stuff out.

I agree with Dino about the thruster, and I might also suggest that, on the bottom rear, instead of using studded strips, try using flat strips so as to give it a smoother appearance.

Other than that, great job!

_________________
Jesus Christ is the only Way to Heaven [see John 14]

"All that is necessary for the triumph of evil is that good men do nothing."  ~Edmund Burke[/size]
on Fri Aug 15, 2014 7:13 pm
Wow, amazing fighter! I love the sleek look and the purple weapons give it a unique but fitting touch. I like the idea of maneuvering thrusters, but wouldn't they hit the ship? (I could be wrong as I know pretty much nothing about thrusters) Anyway, like Scare pointed out, the sleekness is amazing!

I think you should make some landing gear, but that's just being picky. Overall, excellent fighter.
Join date

: 2013-05-19


Posts

: 381


Location

: Aboard the IFS Varda, viewing construction of the next flagship.

Character sheet
Faction:
Species: Human
on Fri Aug 15, 2014 9:27 pm
PXR-- The maneuvering thrusters on the F-2 are not solid-fuel rocket thrusters; they are miniaturized ion flux thrusters, and as such have a very small exhaust release, especially in as small a form as on this fighter.
Thank you, PXR and Scare, for your input, it has been noted and will be taken into consideration.
Also noted is PXR's fascination with landing gear.

I'll try some out, see if I can find something that fits.

_________________
I like cookies.
on Fri Aug 15, 2014 9:33 pm
@Daragon: Fascination? Nah.

Just add landing gear like mine (just a bunch of hingy plates). Easy to add, although not the best... Don't even ask me for more realistic looking landing gear. After that, you're on your own.


Permissions in this forum:
You
cannot
reply to topics in this forum