Join date

: 2013-05-19


Faction

: Phoenix Command Group


Posts

: 870


Location

: Adventure Comix Studios

Character sheet
Faction: Phoenix Command Group
Species: Human
on Sat Aug 23, 2014 3:46 am
~ Start Entry ~
The Oregon Trail class cargo vessel is a long range combat equipped resupply ship in the PCG merchant marine.  Though not equipped with heavy weapons (or many weapons, especially for a ship it's size.  However, fortunately, combat is not its main purpose.
The ship was designed for deep space resupply missions for fleets that are engaged in long range missions.  (Such as in Sons of Liberty.  

)  
While the ships weapons are slightly sub-standard, it does carry to squadrons of fighters in the aft section of the ship.  The cargo pods on the sides can also be dropped and troop pods, mech pods, hanger pods, etc. can be added on for transport in bulk of troops.
Thanks to it's quad warp nacelles, it is able to traverse space easily and efficiently keeping up with the big ships like the Arondite class.  It is usually accompanied by at least two Paladin Class starships and One Sovereign class (or the equivilent thereof).
Honestly guys, I'm tired, it's like four here right now... I just really wanted to post this.  

- Specifications -
Length: 910 Meters
Beam: 210 Meters
Height: 195 Meters
Crew: 600 (Majority of the crew is automated)
Space Marine Detachment: 30
Fighter Pilots: 60
Mobile Suit Pilots: 3
Dropship/Shuttle Pilots: 4
Fighter Contingent: F-101 Daggers x 34, F-114B Phoenixs x3
Dropship Contingent: D-12 Nighthawk Dropships x3
Shuttlecraft: Danube Class Runabouts
Mobile Suits: Paladin Type Mobile Suits x3
Deflector Dish: Kappa Class Deflector Dishes x1, Gamma Class Deflector Dishes x8
Armor: 7 feet of High Density Tenatium Armor with a Heavy Coating of Ablative Armor
Warp Nacelle: Sigma Class Warp Nacelles x4
Average Cruising Speed: Warp 8"
Maximum Cruising Speed: Warp 9.9"
Weapons: Gamma Class Shock Cannons x4, OMEGA class Shock Cannons, Quantam Phaser Banks x2
- Images -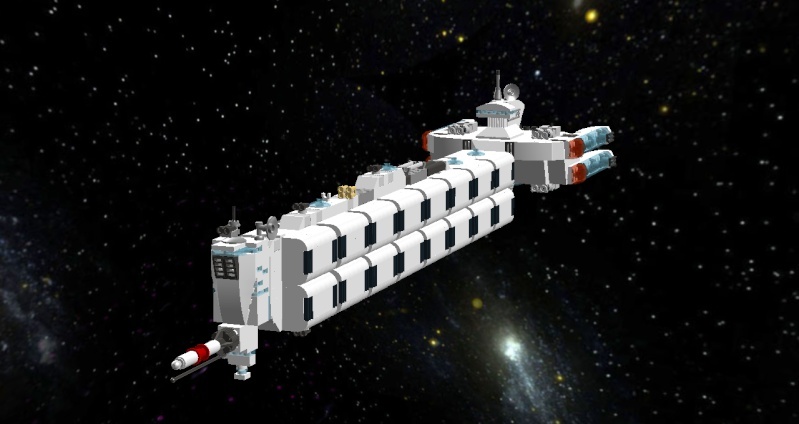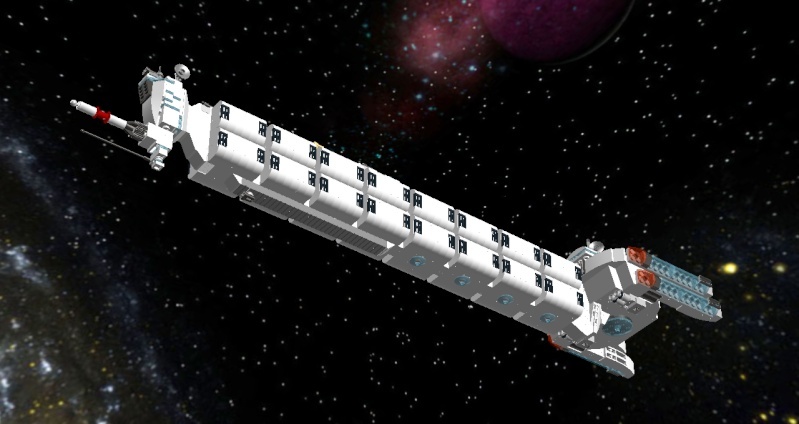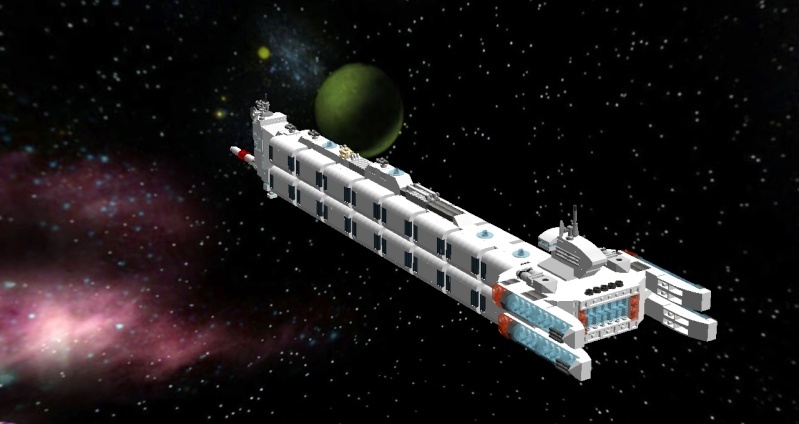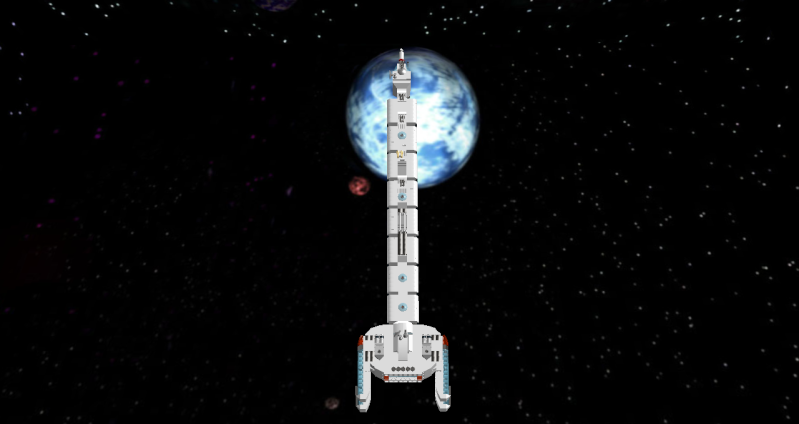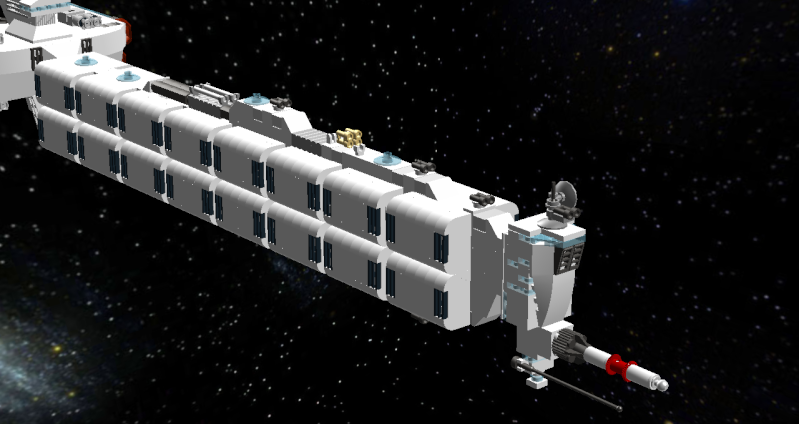 - .Lxf -
https://www.dropbox.com/s/huejx20qz48phyt/Oregon%20Trail%20Class%20Mk.%20I%20-%20Perfect%20Grade.lxf?dl=0
~ End Entry ~
on Sat Aug 23, 2014 6:41 am
AMAZING SHIP! The design is very classic yet unique. I don't know why I love it so much (well, it's an awesome ship

), but it's just one of those ships.

Very good detailing, especially the bridge.
Oh yeah, this reminds me I still need to get to get focused on my own transport...

Join date

: 2014-05-27


Faction

: Phoenix Command Group


Posts

: 1011


Location

: Classified

Character sheet
Faction: Phoenix Command Group
Species: Khent-sa
on Sat Aug 23, 2014 9:59 am
Wow... I was just working on a transport of my own last night.

I need to get back to that...
As for this ship, it's absolutely fantastic. I love the SNOT cargo pods and the bridge. Amazing job!
_________________
~Tetrahedron the Deceiver,
Locutus of Geometry
, Chief Librarian of the Phoenix, Mathematical Bloodletter, First Captain of Vanguard Fleet
Meanwhile, on the chat....
Arik wrote:I'm ready to get back to worldbuilding now...
Tetrahedron wrote:I'm not sure if we should interrupt Ant like this...
He might kill us with his cow bombs
Star-Hunter wrote:"He might kill us with his cow bombs."
I'll take phrases I never thought I'd hear in my lifetime for $500
Join date

: 2013-05-19


Faction

: Phoenix Command Group


Posts

: 870


Location

: Adventure Comix Studios

Character sheet
Faction: Phoenix Command Group
Species: Human
on Sat Aug 23, 2014 12:56 pm
@ PXR - Danke! Glad you like the bridge! I redesigned it... a lot. XD
@ Mighty - Yes you should.

The cargo pods were actually the center of this MOC. I made them building something else and I was like, "Heeeeey, I should make a cargo ship with these!"
_________________

"The enemy gate is DOWN "
Andrew "Ender" Wiggin
Star-Hunter wrote:We channeled pure Jred into Texas to keep it red
was scary for a second
on Sat Aug 23, 2014 2:05 pm
Yep, no doubt about it, that's a cargo ship! But sleek and ultra modern. Nicely done J-red! And I have to agree on with Mirage about the bridge!

Interesting... although I wasn't working on a transport/cargo ship last night, I was up writing my SoL subplot until 3:00 am... and then I was up till 6:00 am. Must.. sleep... sooner... so.. tried. Yeah, you posted this at 4:46 am, so we were both up insanely late.
_________________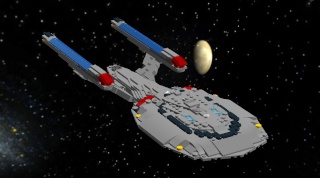 Dino27
"For honor,

   for valor,
 for cookies;  
   and for
friendship!
"   

Join date

: 2013-05-19


Posts

: 381


Location

: Aboard the IFS Varda, viewing construction of the next flagship.

Character sheet
Faction:
Species: Human
on Sun Aug 24, 2014 5:46 pm
I'm sorry, I got to the open parenthesis in the first paragraph and couldn't read any farther. It looks epic, though. xD

_________________
I like cookies.
on Tue Aug 26, 2014 8:48 pm
I loves it! It's so well designed, well detailed, well colored, and it looks so...so...cargo-shippy!

_________________
Jesus Christ is the only Way to Heaven [see John 14]
P.S.S. Steadfast, my Flagship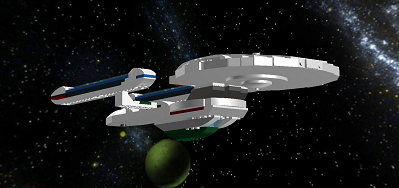 "All that is necessary for the triumph of evil is that good men do nothing."  ~Edmund Burke
Permissions in this forum:
You
cannot
reply to topics in this forum