Join date

: 2013-05-19


Posts

: 381


Location

: Aboard the IFS Varda, viewing construction of the next flagship.

Character sheet
Faction:
Species: Human
on Tue Dec 16, 2014 8:01 pm
F-3 Swift MkI
A heavily experimental fighter, the F-3 "Swift" is meant to be just that-- fast, maneuverable, and versatile. Despite its stocky body (a flaw that will likely be remedied in the MkII), the F-3 is surprisingly nimble, thanks to newly developed particle-interaction-field technology packed into the structure and arms. The "fingers" at the end of the arms project this field, which uses interaction between dust particles to shift the F-3's course; combined with the power of the large primary thrusters, this makes dodging incoming fire in open space far easier, as the computer systems use the interaction field to map out incoming high-energy projectiles and bolts from all sides and make tiny adjustments to avoid collision by millimeters. A useful side effect of this technology is that debris fields, particularly in the heat of a close battle, become the pilot's friend, providing more maneuverability and more options for using the debris to interfere with hostile firepower, as the computer is able to navigate such fields effortlessly while using them to an advantage. Unfortunately, such advantages are not without disadvantages: the Swift, though very useful in superiority fighting in deep space, is nearly useless against any targets much larger than itself, and not able to perform in-atmosphere operations at all; as a matter of fact, the delicate nature of the particle-interaction field causes the F-3 to lose almost all of its maneuvering capabilities when affected by any significant gravity well. This limits the Swift, at least in the MkI version, to strictly short-range, deep-space superiority and interception runs.
The other notable feature in the F-3 is the introduction of a modular fighter turret system. The dual flak turrets seen in the images are one of dozens of combinations of turrets that can be fitted to the mount; because the Swift is not meant for atmospheric operations, and the technology used for avoiding collisions and enemy fire, the turrets are not focused much on aerodynamics or ship profile. However, this is another change that will most likely be made in the F-3 MkII.
Class- Superiority/Interception Fighter
Length- 17 meters
Maximum acceleration- 150 G
Engine Units- Sangron Swift-5 (4x), Sangron Swift-8 (4x)
Thrusters- Sangron Fig-9 (8x)
Shielding- Sangron FS-nc2, FS-k3, FS-e12
Armor- 3" layered ablative
Armament-
Sangron F-X turrets (2x)
Sangron F-8T tubes
Crew- One pilot, advanced on-board AI, specialized particle-field integration system
Life support- 48 hours
Spoiler:
Spoiler:
Spoiler:

_________________
I like cookies.
Join date

: 2013-05-19


Posts

: 381


Location

: Aboard the IFS Varda, viewing construction of the next flagship.

Character sheet
Faction:
Species: Human
on Tue Dec 16, 2014 8:02 pm
Note to all:

I realize this is not my best work, nor is it a particularly good fighter; however, I intend to improve on the design, and wanted to get this out before the idea left me. I've never felt so "held back" by LDD's limitations before attempting such a complicated design idea. Please give feedback on how best to improve the design!

_________________
I like cookies.
on Tue Dec 16, 2014 10:56 pm
I think it's great as it is! It's definitely a very unusual design for a ship. If you can manage to make it a bit less blocky and add some better engines, it would (in my opinion) increase the awesomizationness factor exponentially.

I'm really looking forward to the MkII!

_________________

Join date

: 2014-05-27


Faction

: Phoenix Command Group


Posts

: 1012


Location

: Classified

Character sheet
Faction: Phoenix Command Group
Species: Khent-sa
on Wed Dec 17, 2014 1:37 pm
Hmmmm... yeah, not your best. the Mk.II really has it's work cut out for it.

JK
It's not really 'bad", per se, just boxy and with too many studs showing. Also, the frontal part will need some rounding/thickening... but overall, not that bad.

_________________
~Tetrahedron the Deceiver,
Locutus of Geometry
, Chief Librarian of the Phoenix, Mathematical Bloodletter, First Captain of Vanguard Fleet
Meanwhile, on the chat....
Arik wrote:I'm ready to get back to worldbuilding now...
Tetrahedron wrote:I'm not sure if we should interrupt Ant like this...
He might kill us with his cow bombs
Star-Hunter wrote:"He might kill us with his cow bombs."
I'll take phrases I never thought I'd hear in my lifetime for $500
on Wed Dec 17, 2014 8:32 pm
While the idea is spectacularly good, the design is, as others have said, blocky. I look forward to a much more streamlined mkII

_________________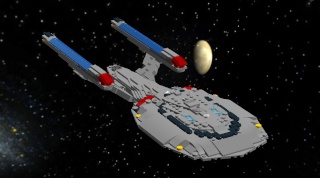 Dino27
"For honor,

   for valor,
 for cookies;  
   and for
friendship!
"   

Join date

: 2013-05-19


Posts

: 381


Location

: Aboard the IFS Varda, viewing construction of the next flagship.

Character sheet
Faction:
Species: Human
on Thu Dec 18, 2014 12:58 pm
The problem with this design is that any changes, even minor ones, require a huge amount of tweaking, and often never look like I intended. You should see the designs for this ship-- SO much cooler than how it turned out. I think my main goals for the next one are to make that back section slightly longer and narrower, and to try to extend/taper off the front end a little more.

I have three more kind of epic starfighter designs, the Lynx, the Raptor and the Harpy , but they're as complicated as this one. :/

_________________
I like cookies.
on Fri Dec 19, 2014 5:59 am
I see someone finally decided to make star-fighter guns that actually took a little creativity and more than just a piece to use as the barrel! Good job.

Love the top guns.
_________________
Someday someone may kill you with your own gun, but they should have to beat you to death with it because it is empty.
~/Com|Ant~
Arik wrote:Sadly, it's a doomed attempt. The Illuminati infiltrated the US government before it even was the US government,
Join date

: 2013-05-19


Posts

: 381


Location

: Aboard the IFS Varda, viewing construction of the next flagship.

Character sheet
Faction:
Species: Human
on Fri Dec 19, 2014 11:30 am
Yes, these are made so that the ship doesn't have to be facing exactly at its target-- the pilot can aim the guns and have the ship sort of follow them, rather than having to make the entire fighter be perfectly in line with its target. Makes for a much easier shot/tracking. xD

_________________
I like cookies.

Permissions in this forum:
You
cannot
reply to topics in this forum