on Sat Feb 21, 2015 5:17 pm
(Jaw drops through floor, through first story garage floor, and burrows twenty feet into ground.) 
Oh..... my.... goodness....
It's beautiful... 
I find myself unable to express my feelings about this ship. 
Love at first site is real... because I fell in love with this ship at first site.

_________________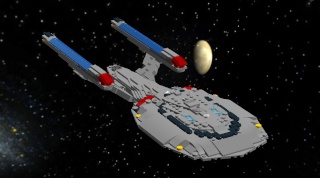 Dino27
"For honor,

   for valor,
 for cookies;  
   and for
friendship!
"   

Join date

: 2014-05-27


Faction

: Phoenix Command Group


Posts

: 1011


Location

: Classified

Character sheet
Faction: Phoenix Command Group
Species: Khent-sa
on Sat Feb 21, 2015 6:55 pm
Let me start off by saying I find it rather ironic the Zeerover is the one to be refitted by S-H; TBCH, the Plunderaar (as it was called then) was one of my least favorite of the entire batch. I had no idea everyone would like it or the "refit" that much.

That said, on to the ship at hand. The Banshee is, in some ways, the polar opposite of the Zeerover Beta: it's slick, clean, hi-tech... basically, everything the Zeerover isn't.

I love the new nacelles; the shape is great, and I really like trans-purple.

I absolutely adore what you did with the red syringes, the boxes built into the hull, the top and bottom bridge- pretty much everything. Heck, even the coloration is a straight-up improvement! My gut reaction was to call it some reverse-engineered police variant of standard Zeerovers, it just has that killer look.

Alas; while the ship is overall amazing, as original designer, I have some minor nitpicky issues.

Firstly, it has no impulse engines- or nav. deflector, for that matter. It's a minor thing, but it's somewhat of an oddity thematically.

Secondly, the underside of the saucer is slightly flat without any kind of protruding bridge structure, though this is quite possibly me.

Aaaaand... that's about it. As I said, I was really digging for issues.

Overall, fantastic remake, I must say. Aside from a few minor things from the creator, stellar work!
_________________
~Tetrahedron the Deceiver,
Locutus of Geometry
, Chief Librarian of the Phoenix, Mathematical Bloodletter, First Captain of Vanguard Fleet
Meanwhile, on the chat....
Arik wrote:I'm ready to get back to worldbuilding now...
Tetrahedron wrote:I'm not sure if we should interrupt Ant like this...
He might kill us with his cow bombs
Star-Hunter wrote:"He might kill us with his cow bombs."
I'll take phrases I never thought I'd hear in my lifetime for $500
on Sat Feb 21, 2015 7:52 pm
I'd say it's the epitome of no studs showing.
on Sat Feb 21, 2015 10:42 pm
Two words: it's GORGEOUS!

Seriously though, this is one awesome bit of kit. Aside from the stern looking a bit boxy, I can't find anything wrong with it.

Those off-center cannons/sensor arrays are beautiful. This is definitely one of my favorites of yours.

_________________

Permissions in this forum:
You
cannot
reply to topics in this forum