on Mon Mar 16, 2015 1:52 pm
Background pic: Perseus Prime by GTGraphics
The Argo Iridium is Narkova Drive Yards' second refit of J-Red's Argo Mk. III cruiser. Improvements over the last refit include a redesigned stern and warp nacelles, all-new cannons (big AND small

), and shiny new NDY livery.
Pic 1:
Pic 2:
Pic 3:
Pic 4:
I think this refit is much better than my previous one, which only made a couple of modifications to the warp nacelle support pylons. I've redesigned the stern area again, because the more I looked at the previous version the more I disliked it. I've also beefed up the impulse engines and extended the warp nacelles by 6 studs.
New stern:
As much as I like it by itself, the mega-cannon on the top bow of the original Mk. III didn't quite fit the look of the rest of the ship, in my opinion. So, I nixed that and added put in its place the NDY "Wildfire" warp cannon, custom-made for this ship. The Argo Iridium sports a total of 8 Wildfire cannons, 16 AA turbolaser turrets (also new), and 14 torpedo turrets.
In addition, I added a bit of detailing to some of the bare, flat areas. I also gave a bit of texture to the underside (pic 4), then gave the whole thing new colors. Finally, I tweaked the letters on the bow to make them read a little better.
Iridium & Original Mk III side-by-side comparisons:

Pic 1:

Pic 2:

Pic 3:
An .lxf will be live on the LEGO gallery soon. Enjoy!

_________________

on Mon Mar 16, 2015 2:02 pm
That is certainly a great refit of a great ship!

I like it very much, and blue looks great on the ship.
on Mon Mar 16, 2015 4:57 pm
Wow... I LOVE it! GREAT refit! I like everything you did that I can see. And all of your re-refitted areas compared to your first refit are excellent!

_________________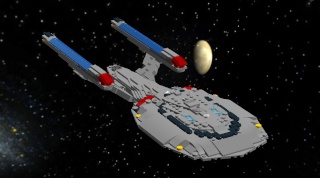 Dino27
"For honor,

   for valor,
 for cookies;  
   and for
friendship!
"   

Join date

: 2014-05-27


Faction

: Phoenix Command Group


Posts

: 1011


Location

: Classified

Character sheet
Faction: Phoenix Command Group
Species: Khent-sa
on Mon Mar 16, 2015 6:12 pm
Excellent refit, indeed! The improvements you made weren't too huge, but they're done in such a way as to really enhance the ship's overall design. I particular, I really like the turrets; fits the aesthetic, I suppose.

The only thing I don't really like is the color scheme; IDK, the dark blue + light blue + orange just isn't doing it for me.

_________________
~Tetrahedron the Deceiver,
Locutus of Geometry
, Chief Librarian of the Phoenix, Mathematical Bloodletter, First Captain of Vanguard Fleet
Meanwhile, on the chat....
Arik wrote:I'm ready to get back to worldbuilding now...
Tetrahedron wrote:I'm not sure if we should interrupt Ant like this...
He might kill us with his cow bombs
Star-Hunter wrote:"He might kill us with his cow bombs."
I'll take phrases I never thought I'd hear in my lifetime for $500
on Mon Mar 16, 2015 7:21 pm
LXF is up! http://www.us.lego.com/en-us/gallery/86025c1a-7db7-4336-ab0a-1bfe47134f88?index=22&categoryId=64929898-C52F-49D8-B106-C0C36314093C
Talmid: Thanks!
Dino: I'm glad you like it!

Tetra: Thank you! Those guns are one of my favorite parts of this refit.
As for the colors, I was debating about whether or not to include the light blue and the orange. In retrospect I probably should have stayed with my first idea of keeping the translucent orange parts a nice transparent blue. That probably would have blended better with the shape of the ship.

_________________

Join date

: 2013-05-19


Faction

: Phoenix Command Group


Posts

: 870


Location

: Adventure Comix Studios

Character sheet
Faction: Phoenix Command Group
Species: Human
on Tue Mar 17, 2015 12:50 pm
Ok, first off, the stern of that ship is epic. I don't know why I didn't think of that in the first place.

Love the the redesign of the nacelles. Lots of smooth, lots of metallic, and lots of epic. I really like the new heavy cannons and those smaller ones are really sweet as well. I might
steal
borrow some of them from you.
Overall great job on the redesign. Part of me likes the color scheme... part of me doesn't... I dunno. It's kinda growing on me. XD
_________________

"The enemy gate is DOWN "
Andrew "Ender" Wiggin
Star-Hunter wrote:We channeled pure Jred into Texas to keep it red
was scary for a second
on Tue Mar 17, 2015 2:56 pm
J-Red: Thank you! Technically, this is your ship, so you can use whatever you want from it.

_________________

Permissions in this forum:
You
cannot
reply to topics in this forum