on Thu Apr 23, 2015 3:03 pm
An LDD file can be downloaded from this page.
The Borg Obelisk is an obelisk-shaped destroyer used by the Borg. It carries incredibly powerful gravimetric torpedoes, cutting beams, and tractor beams, and is equipped with a transwarp drive, and both of its sections are capable of independent function. Shooting at the vessel's midriff in an attempt to cripple it is not recommended, because multi vector assault mode.
on Fri Apr 24, 2015 1:21 pm
Looks like a borg rectangle that's been tipped up.

_________________
Someday someone may kill you with your own gun, but they should have to beat you to death with it because it is empty.
~/Com|Ant~
Arik wrote:Sadly, it's a doomed attempt. The Illuminati infiltrated the US government before it even was the US government,
on Fri Apr 24, 2015 2:43 pm
I should make a larger version of this.
on Fri Apr 24, 2015 4:07 pm
Talmid: I'd love to see that! This little guy is very impressive, as are the rest of your new Borg shapes. Great work!
_________________

Join date

: 2013-05-19


Faction

: Phoenix Command Group


Posts

: 870


Location

: Adventure Comix Studios

Character sheet
Faction: Phoenix Command Group
Species: Human
on Sun Apr 26, 2015 10:47 pm
I'm just commenting on this one to avoid making a short comment on each. While it's awesome that you're uploading plenty of ships and beefing up our factions outside of the PCG and Federation, I gotta admit, it looks like in your attempt to beef up said factions that your quality of work has dropped. None of these ships outside of your sphere just seem Borg-like. They're small and underwhelming and not greebly enough.
_________________

"The enemy gate is DOWN "
Andrew "Ender" Wiggin
Star-Hunter wrote:We channeled pure Jred into Texas to keep it red
was scary for a second
on Mon Apr 27, 2015 1:39 am
Thanks. Small ships are sort of my focus currently, aside from the D-7 I just posted. Having to fight lots of big enemy ships is epic and all, but it's sort of unrealistic. Even the Borg have used smallerish scout ships at times.
For the Borg specifically I'm trying to see if I can utilize different colors to achieve a level of detail instead to greebling - greebling involves many
many
small pieces, and when those numbers get into the thousands it's just not practical for me to build, because old laptop.

My idea is: We can't really ignore the small ships, so that's what I'm posting right now. They're fast to build especially in numbers, which is practical for me. And if my color theory works I might be able to commence work on a decently sized Borg Cube when I have the time.
Also... for all of my latest uploads, D-7, Klingon Raptor, Romulan Raptor, Harpy, Latora/Talon, K-32, K-18, Pyramid, Obelisk, Rectangle, and Diamond... they're licensed Star Trek ships and I've been building them based off pictures. Since they aren't my own designs I'm not focused on holding them to my custom standard of building (smooth lines, proportionate, practical, form follows function). I'm going after the shape of the real thing, and translating that into brick form.
Here's pictures of the real Harpy design for example in the spoilers.
Spoiler:
You're right, my intention is to beef up the other factions. For me to accomplish that, it's just faster to do that by replicating other designs, so I don't have to go through my own design process. Coming up with my own original designs takes a lot of time and my projects can end up being huge bloated masses. But since these are real Star Trek designs I don't need to worry about how this part is impractical, looks ugly, or doesn't looked proportioned right, because that's how it's supposed to be.
But really I appreciate the feedback immensely! My next design plans are to make a heavy K'Vort Bird of Prey, refit my old D'Deridex, and experiment with a Borg Cube design. Hopefully, because of the more time I will spend on these larger designs, I can build them to a level of quality you're looking for.

Personally I'm impressed with how I've managed to translate the pictured designs into LEGO bricks, especially on the smallest of ships. In fact I was just looking earlier at some of my Enterprise era Fed ships I made a few years back, where I did some crazy things to achieve the look I wanted. Here, I'll upload a pic.
That nacelle connection....
on Wed Apr 29, 2015 2:56 pm
Personally, I think that this could be a future Borg ship, with ablative hull armor instead of pipes and wires on top. It's nice, small, but nice. I'd give it a solid 3.5/5.0. 
And that Romulan ship? That's what happens when Star Wars Corellian Engineering Corporation do a joint build with the Romulan Star Empire.

 I know that the Rommy ship is a game model, but I honestly kinda like parts of it, namely the wings... if you wanted to go back later and "refit" it to be aesthetically pleasing, I'd move the nacelles out to under the wings and lose the square head for a more beak-like design.
_________________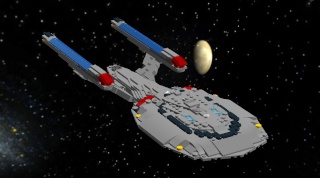 Dino27
"For honor,

   for valor,
 for cookies;  
   and for
friendship!
"   

Permissions in this forum:
You
cannot
reply to topics in this forum