on Mon May 18, 2015 12:29 pm
This will be for MSI members to describe and discuss the fine details of all their tech if they so desire.
I'll personally be making probably a single post to fit my own tech in, which I'll edit whenever I have something new to add.
Everyone else feel free to use whatever format you like.

_________________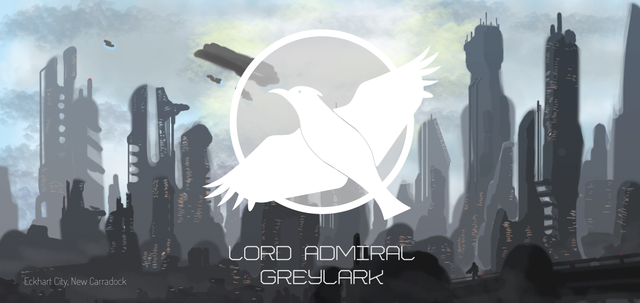 Join date

: 2014-12-19


Faction

: Koine Telos


Posts

: 155


Location

: Blood & Thunder, Brachialis-type freighter, KT space

Character sheet
Faction: Other
Species: Human
on Tue May 19, 2015 9:07 pm
Tech is nowhere near done, just getting this up so I can expand upon it later. Further explanation can be added upon request.

Weapons:

OLEP (Orbital-Level Energy Projector)
noun, oh-lep, also "glass cannon"
Mk. 1 OLEP
Fires extremely long-range (< 250,000km), accurate, and extremely destructive thin beam of energized matter. Easily cuts through 200cm of unshielded titanium alloy armour instantaneously. Near light-speed travel of energy. Shields in area of OLEP must be lowered in order to fire. Massive power drain if fired continuously. Found in a variety of mounting arrangements.
Mk. 2 OLEP
Fires < 400,000km range thin beam of energized matter, as accurate & fast as the Mk. 1. Even greater power draw than Mk. 1, cuts through 350cm unshielded titanium alloy armour in an instant.
Mk. 3 OLEP
Fires < 450,000km range thin beam of energized matter at Mk. 2 accuracy and speed. Lower power draw than Mk. 2 (but still higher than Mk. 1). Cuts through 300cm unshielded titanium alloy armour instantaneously.
Mk. 4 OLEP
Fires theoretical < 450,000km range wide beam of energized matter at slightly reduced accuracy, but same Mk. 3 speed. Cuts through 500 cm unshielded titanium alloy armour instantaneously.

Mk. 1 Energy Battery
Point-defense weapon, short to medium range. Brief charge time before firing, and shields in area must be lowered temporarily to allow weapon to be fired. Can fire as pulse (for lower energy usage/higher rate of fire) or beam (for improved accuracy & instantaneous travel). Capable of melting through 45cm of unshielded titanium alloy armour in one pulse, or cutting through 50cm of unshielded titanium alloy instantaneously in beam mode.

Mk. 1 MLS (missile launch system)
Forms the foundation for nearly all Alcel missile designs. 30 thermonuclear missiles (5 megaton yield each) per pod. Single drive, 1,500 km/h top speed in atmosphere.
-EW: launches electronic warfare missiles, equipped with jamming systems, chaff, and onboard sensor suite.
-H: launches increased yield missiles & holds larger amount. 60 thermonuclear missiles (50 megaton yield each) per pod. Single drive, 1,250 km/h top speed in atmosphere.
-S: launches low-emission missiles designed to be nearly undetectable until striking the target. 15 thermonuclear missiles (4 megaton yield each) per pod. Ring of drives, 750 km/h top speed in atmosphere.

Mk. 2 MLS
The next generation of Alcel missiles. Tube can pre-load 3 missiles with another ready to fire, standard tube accepts standard, EW, and certain prototype heads. -H and -S require separate tubes. Magazine storage is separate from missile tube, but an automated loading system (can be manually run or loaded) loads missiles into tube from magazine. Standard missiles have 25,500 G acceleration and a yield of 40 megatons.
-EW: electronic warfare missiles with 20,000 G of acceleration.
-S: low-emission missiles designed to be nearly undetectable until striking the target. 2 missile preloading, 25 megaton yield each. Acceleration of 10,000 G. Requires special tube.
-H: No preloading, can only fire 1 before reload. 250 megaton yield, 15,000 G acceleration. Requires special tube.
-TO: A warhead based off of the SOC-T weapon. Carries a modified slipspace drive for detonation within 5km of target for a 15km destructive radius, within which nothing survives. Extremely expensive, only one warhead is fitted on ships under 1km. Acceleration of 35,000 G.

MD1 (Mass Driver, Mk. 1)
-H: heavy mass driver
Round mass: 552,417 kg
Velocity: 300,000m/s
Round size: 2m diameter x 9.1m length (cylindrical tungsten round)
Damage: 23,508.76 tJ
Reload time: Appx. 1 min, 15 sec, full recharge 30 sec
-L: broadside mass driver
Round mass: 69,052 kg
Velocity: 500,000m/s
Round size: 1m diameter x 4.55m length (cylindrical tungsten round)
Damage: 8,631.5 tJ
Reload time: Appx. 45 sec, full recharge 1 min

MD2
Round mass: 38,645,632 kg
Velocity: 750,000m/s
Round size: 20m width X 10m length X 10m height (rectangular tungsten round)
Damage: 10,869,084 tJ
Reload time: Appx. 1 min, recharge time 40 sec

PD-1 (Point Defense)
Point defense turret, fires 4,200 rounds/minute.
Round mass: .4647 kg
Velocity: 1,100 m/s
Round diameter: 25mm
Damage: 281.14 kJ

PD-1B (Point Defense)
Point defense turret, fires 4,500 rounds/minute using less power than the PD-1
Round mass: .4647 kg
Velocity: 1,100 m/s
Round diameter: 25mm
Damage: 281.14 kJ

Mk. 1 Alke Railgun
Acts as a normal railgun, fires 100mm rounds. Can be found in Mk. 1-D configuration as dual railgun.

Mk. 1 Ship Obliteration Cannon (SOC)
Uses gravity manipulators to fling a mass at extremely high speeds. Can be found in single or dual configurations.
Single
Round mass: 69,052 kg
Velocity: ~1,000,000m/s
Round size: 1m diameter x 4.55m length (cylindrical tungsten round)
Damage: 34,526 tJ
Reload time: Appx. 10 sec, full recharge 3 min
Dual
Round mass: 69,052 kg
Velocity: ~1,000,000m/s
Round size: 1m diameter x 4.55m length (cylindrical tungsten round)
Damage: 69,052 tJ (combined, fired simultaneously)
Reload time: Appx. 30 sec, full recharge 5 min

-T (-Total, pronounced SOHKT): Instead of a standard mass, a specialised system containing extremely precise measurement systems, high-powered firing solution calculators, and one specialised slipspace drive (fewer built-in failsafes, due to the fact that it isn't used for transport) is flung at a target shortly after a standard mass (approximately 250 metres or less behind). The standard mass weakens the ship's shields, and the specialised system activates its slip drive once it nears the target, opening a slipspace portal in the middle of the target & thus sending whatever is inside the portal's radius or within 500 metres of the portal into slipspace.

Defenses:

Hexacore composite
Multi-layer non-metal hexagon composite reverse-engineered from alien technology, composition unknown. Can withstand one MD1-L strike at 250cm thickness (8631.5 terajoules)

Energy composite
Multi-layer non-metal hexagon composite reverse-engineered from alien technology with proprietary anti-energy coating every fourth layer. Similar properties to hexacore composite, extremely resilient to energy weapons.

Molecular shielding
Scaled up from the type found here, the molecular shielding found on some Alcel ships absorbs energy weapon fire and either stores it for later use or uses it to power itself/the ship's systems. However, it has reduced effectiveness against projectile weapons and, in extreme cases (concentrated fire of a substantial amount of Star Destroyers), has been overloaded.

Engines:

BAR-C
Bar Arrangement Rig-Capital engine

RAR-C
Ring Arrangement Rig-Capital engine

SAS-C
Stealth Arrangement System-Capital engine

Drives:
Alcel Slipspace Drive
Standard: 400-900 ly/day
Modified: 1,000-1,550 ly/day
Specialised: 2,500 ly/day (very uncommon due to the high maintenance required and time/cost required to specialise a drive to a ship class)

_________________
nikolokaidon

Permissions in this forum:
You
cannot
reply to topics in this forum