Join date

: 2013-05-19


Posts

: 381


Location

: Aboard the IFS Varda, viewing construction of the next flagship.

Character sheet
Faction:
Species: Human
on Sun Jun 09, 2013 11:38 am
Sangron has developed a system for designating weapons to allow for a quick assessment of a weapon's type and power, without employing excessive, over-used adjectives. This system is provided below for the convenience of customers, and will be updated as weapons are developed and put into service.
Note: This list will also include weapons outside the system, or weapons which are explained elsewhere but assimilated into the system.
System explanation:
A weapon's designation under the Sangron system follows the format "X-pqrY", where X indicates the base weapon type (C for cannon-based weapons, T for torpedoes, etc), p is a number indicating the intended platform for the weapon (1 for corvette, 2 for frigate, 5 for destroyer, etc), qr is a catalog number representing the specific weapon, which can be found in this database, and Y is a letter representing the subclass of the weapon (I for ion cannons, R for railguns, etc.). Please note that weapons can be and are often used among multiple platforms, such as the C-425R, which was designed for heavy cruisers but is used on many destroyers.
The Sangron system, applied to the IF, means that all weapons with the same base type are made to fit a compatible slot per platform class; all Cannon types can be interchanged, all Missile types can be interchanged, all Torpedo types can be interchanged, etc. This, of course, is also true within weapon types-- a 200-level Turbolaser can be swapped for a 200-level Flak cannon, or a 200-level Railgun. Some weapons require a modification of the standard slot, or are easily modified to fit different platforms.
Cannon, base type C
Turbolaser, Type C-000T
Spoiler:


--The turbolaser is a heavy laser cannon equipped with large banks of capacitors, allowing them to build up and store far more powerful energy bursts than standard cannons. These capacitors give huge energy bursts to the beam, greatly increasing its power over standard laser cannons. They also help power the galven coils in the barrels of turbolasers. First, a particle beam is generated in the manner standard of blasters and laser cannons. Then even more power is achieved by guiding this laser cannon particle-beam through another stream of energized Tibanna Gas (besides the one used in generating the initial beam, since laser cannons work on the same principle as blasters) to increase its power. The extra capacitors in a turbolaser that store huge amounts of raw energy then contribute to the beam by energizing it even further as it moves to the turbolaser's barrel. The resulting beam carried roughly three or more times the energy of a standard laser cannon beam.

It then passes through a set of galven coils located in the turbolaser's barrel, even further increasing the beam's power, and allowing it to pierce the defenses of heavily protected targets. Because these weapons required extra time to build up energy for their powerful blasts, they tended to have a slightly slower rate of fire than their weaker brethren (usually around one to two seconds between volleys, depending on the type of turbolaser and what power setting it was on). The risk of overheating was high due to this massive energy buildup, and many turbolaser models are protected with complex cryosystems and a powerful cooling sleeve on the barrel.

C-101T: A basic-level turbolaser, scaled down for corvettes, nothing unusual, though it has been almost entirely replaced with the Type 4 turbolaser. Uses charged Tibanna gas to blast away at enemy targets.

C-102T: A more efficient version of the C-101T, with improved hardware, packing the same range and rate of fire while nearly halving the energy used, at a cost in destructive power. This model is outdated, and rarely used, as the C-101T is not especially powerful to begin with; recent improvements in power cores have voided the need for a weapon that reduced the already low energy cost of the C-101T while further reducing its power.

C-104T: The next step up from the C-101T, packing more power, range, and rate of fire. Essentially an all-around improvement, built for modern starships with fairly recent technology. Most Daragon Inc. corvettes older than two years are equipped with Level 4 turbolasers.

C-105T: A rapid-fire version of the C-104. An advanced loading system allows the Level 5 nearly double the rate of fire at almost 1.2 rounds per second, with almost the same power as the Level 4. However, after 12 seconds of constant firing, there is a ten-second cooldown. To negate this, the C-5T is either fired in 3-5 shot bursts, or a sister turret mounted nearby begins firing while the first turret cools. Two variations of the C-5T were developed to solve the cooling problem, the C-6T and the C-8T.

C-106T: Essentially the same turret as the C-5T, the Level 6 turbolaser is equipped with both an advanced cooling system that extends the firing time to 15 seconds while reducing the cool time to 7 seconds, and its own miniature shield generator that activates during the cooling process to protect the turret. Both improvements come at a higher overall energy cost, and the C-6T is significantly more expensive than other models; as such is the case, the Type 6 is rarely used.

C-108T: The other solution to the Level 5's cooling time, the Level 8 employs an entirely different strategy from the Level 6. Sporting three enormous rotating barrels, the C-8T totally eliminates the cooling problem and increases the firing rate by another 24%. However, the mechanisms and improved support engineering required to hold and rotate the barrels means a significantly higher price tag, and the speed at which it goes through ammunition requires advanced storage. The entire C-8T is much larger, heavier, and more expensive than most other corvette-based weaponry, and requires modification of the standard C-slot to compensate for its size, but it remains popular because of its versatility and effectiveness.

C-109T: Another all-around improvement of the basic corvette-mounted turbolaser, designed for the most modern and state-of-the-art corvettes; slightly more powerful than even the C-11T.

C-201T: The basic frigate-based turbolaser, the C-201T, is approximately equivalent to the C-109T, though it has longer range. Not particularly popular, as it is relatively inefficient and expensive for its power, but it is highly customizable because of its basic components, and is often bought and then modified by more unorthodox captains.

C-202T: The C-202T is no more than a modification of the C-201T, with less-than-standard parts and the appearance of a junk heap. The mod, termed "The Mongrel," became so popular among captains and spacers as a cheap, simple way to boost the range and power of the standard C-201T, Sangron decided to introduce both a conversion kit and a full model, which became the C-202T.

C-203T: Rugged design and careful choice and placement of materials make the 203T one of the most reliable and tried-and-true turbolasers of Sangron's products. It is not exceptionally long-ranged or rapid-fire, but it is powerful and accurate, and has never been known to misfire or malfunction yet.

C-204T: Sleek and efficient, the 204T is built as a light weapon for frigates that need the extra power for thrust or shielding. It is similar in ability to the 202T, though its slightly increased price tag reflects the more expensive materials used to improve efficiency.
--Level 205 (C-205T)- The C-205T is an all-around improvement on the Levels 201-204; it is more powerful, longer ranged, and faster-firing. It is more expensive and not especially energy-efficient, but it makes up in explosions what it lacks in efficiency.

C-206T: The C-206T is the longest-ranged frigate-mounted turbolaser, surpassing that of even some heavy cruisers. Its advanced focusing lenses allow the beam to hold together for a significantly longer period, though its rate of fire is decreased by the extra gas required to fire a bolt.

C-310T: The C-310T is a power-focused cannon focused on putting some extra punch into a fairly small carriage, making it a popular choice for Captains with a penchant for aggressive negotiations.

C-534T- Providing a dense, powerful bolt enhanced with an extra Tibanna gas chamber, the 534T is an especially deadly variant of the turbolaser, meant for destroyers and dreadnoughts. Though expensive, the 534T is often mounted in a triple-turret form (534Tt turret) for a devastating hail of firepower; however, because of its expense, no more than two or three of these are typically found on a single destroyer, and far more cost-efficient weapons are available to dreadnoughts.

Electron Manipulation, Type C-000E
Spoiler:


A highly advanced form of weaponry, recently developed and used exclusively by Daragon, Incorporated, the E-series cannon (known as an Electro) is a diverse and specialized set of weapons that range in power from small support roles to devastating starship-killers. Electros project a small electron beam towards an enemy ship, forming a connection with its shield or electronic systems; the stream is then manipulated in various ways, depending on the weapon type, but commonly by reversing the stream to draw power away from the enemy shields. There are two primary things keeping the E-series from replacing all DI weapon systems; first is the fact that as advanced as the weapons are, the science that developed them is not fully understood, meaning the Electro's ability to manipulate the electron stream is very limited. Secondly, Electros require a large barrel and mount, making them impractical for platforms smaller than heavy cruisers.

The standard weaponized Electro follows a pattern for electron manipulation: it draws power from the enemy ship, holding the energy in an increasingly large beam connecting the cannon to the target; when the beam reaches critical mass, all the energy is fed back into the target, resulting in damage proportional to the weapon's original ability to manipulate the electron stream. Larger, longer-barreled weapons tend to be more powerful, as more control is allowed over the stream; basic Electros are essentially the same as a common phaser cannon, with the benefits of draining some power from the enemy ship, and using an infinitesimal amount of power from the host ship.

C-540E: The first E-series cannon mounted on a DI ship, the C-540E set the standard for Electro cannons; it simply draws power from the target and then releases the energy back into the target all at once. A high rate of fire and negligible power requirement have made the E-series (particularly the quad-mounted turret, C-540Eq, used on the Sentinel MkII) a resounding success, and many Captains are already requesting their own 540E's.

C-550E: The 550E is a larger, heftier, and generally beastier version of the 540E; though it operates nearly the same way, the 550E not only draws and holds more power from targets, but has the ability to add extra power from its own battery-mounted capacitors, allowing for devastating blasts. However, the sheer size and weight of the 550E made it impossible to practically mount as a turret, resulting in a fixed battery; additionally, the huge capacitors require a significant amount of time to refill, due to their high energy requirements.


_________________
I like cookies.
Join date

: 2013-05-19


Posts

: 381


Location

: Aboard the IFS Varda, viewing construction of the next flagship.

Character sheet
Faction:
Species: Human
on Sun Jun 09, 2013 11:52 am
Railgun (magnetically accelerated cannon), Type C-000R
Spoiler:

--Though a somewhat recent addition to standard starship weaponry, the railgun, or mass driver, is quickly becoming one of the most popular basic starship-mounted cannons. While the complex design of a railgun, involving thousands of moving parts intricately working to fire a projectile with electromagnetic force, makes it a physically delicate weapon, its incredibly cheap ammunition and tactical versatility allow for a plethora of modifications and uses.

C-101R: Basic, bare-essentials railgun. Like most Level 101 weapons, it is outdated, used only for training and firing ranges.

C-102R: A large improvement over the 101R in nearly every respect, the 102R can still be found on a number of older ships.

C-103R: The 103R is made to fire heavy slugs into other corvettes, often knocking out shields in just a few hits. It is inaccurate, has low tracking speed, a low rate of fire, and is difficult to operate, but some captains still use it for its sheer power and range.

C-104R: The 104R is essentially the inverse of the 103R-- it has very little power, but a very high rate of fire, high tracking speed, good accuracy, and still packs a punch against unshielded targets. Its main use is as an anti-starfighter weapon.

C-105R: The 105R is the standard DI corvette-mounted railgun, with large improvements over the 102R in every field. It is by far the most popular choice among captains out of all the C-modules, as it is reliable, efficient, and all-around a very good weapon choice.

C-106R: The 106R, known as the "minigun," is the first railgun to use specialized tech. Based on the 104R, it retains the high accuracy and tracking speed; however, the inner-barrel electromagnets are in rapid-seal compartments which individually contain each projectile while the magnets flash. This means that up to twelve projectiles can be in the barrel at one time, drastically raising the rate of fire. However, the compartments also lower the power of the projectiles, reducing range and power, and classing the 106R as a strictly anti-starfighter weapon.

C-220R: A very basic railgun built for frigates and sometimes corvettes, providing a steady stream of high-range slugs for use against large enemy starships. Very popular among captains looking for a safe and dependable alternative to energy weapons.

C-425R: With a medium rate of fire, medium range, medium power, and medium ammunition, the 425R's well-rounded stats have made it the most popular railgun in the IF. It can easily switch from blasting away at enemy ships to harassing starfighters, and its small size and smaller price allow it to work as a "filler," covering any divot or weak spot that larger weapons can't quite see. Almost always found in dual battery form (C-425Rd battery), the 425R is the go-to for any captain's weaponry needs.

C-537R: Purposed purely for destroyers, the 537R is meant to be paired with the C-533F (C-537T/533Fd platform) for a "jungle shot" effect. The dual 533F cannons fire a medium-spread, long-range shot of small pellets designed to light up every reading on a ship's point-defense grid targeting computer. This spread is immediately followed by the dual 537R's long-range, high-powered slug; because the spread loses speed faster than the slug, the 537R munition passes the shot one or two seconds before impact. This pattern is intended to confuse the enemy point-defense grid, making it prepare for (or ignore) what it has identified as a distraction or chaff, before being attacked by the powerful 537R slug. While this platform is fairly ineffective against shields, it has proven extremely effective against unshielded enemies. The 537R is rarely found on its own, as it has a low rate of fire and targeting systems designed for use with the platform.

Variable Munitions Cannon, Type C-000X
Spoiler:


The Variable Munitions Cannon (VMC), a recent addition to the DI arsenal, is a fascinating weapon that works entirely as the name implies-- a set of predetermined rotating sub-barrels allows the X-series to fire several different munitions, based on the Captain's orders. The most useful part of the X-series is that each one comes with a sub-barrel corresponding to almost every platform-equivalent DI weapon; that is, for a 100-level C-type VMC, a sub-barrel for nearly every 100-level Cannon-type weapon will be stored in the VMC housing. The pros and cons to the VMC are rather extreme; one of the biggest pros, as mentioned, is that not only can the preset barrels be different before every battle, and therefore specific to the presented threat, the preset can rotate barrels in seconds from a long-range railgun to an anti-starfighter flak cannon. The downsides to the VMC are equally significant: the storage and efficient use of so many sub-barrels, as well as a rotating system for the rather enormous presets, requires a huge housing, very often an entire superstructure for a small bank of VMC batteries. Because of this, X-series cannons are never turret-mounts; the different types of X-series depends more on the size of the superstructure built for them than on individual characteristics. However, some VMCs are dual or quad cannons, increasing their rate of fire, preset change rate, and general firepower; these require larger housings, of course.

As implied above, the Variable Munitions Cannon is a complex cannon operating on a simple principle. The visible barrel does not change, but acts as a "sheath" for the various inner barrels that can be swapped out to accommodate each preset sub-barrel. Inside the housing or superstructure lies a rotating system of sub-barrels, each of which can be loaded separately but only fired when rotated to fit the cannon, a process that only takes a few seconds. These sub-barrels are chosen by the Captain based on his strategic preferences, and though somewhat limited, nevertheless provide a wide set of options. Changing the presets can take hours, so once a battle has begun, a Captain very rarely changes his set.

X-series cannons are specific to each starship class; very few classes are equipped with more than one type of VMC, because of their extreme spatial requirements, and vary mainly by number of preset barrels available at one time.

C-501X: The first VMC ever put in the field, the 501X was the most basic and trusted design available when choosing weapons for the Sentinel MkII. Housed in the ventral superstructure with a wide firing arc, the two 501Xd cannons can hold up to six sub-barrels each (three per outer barrel).


_________________
I like cookies.
Join date

: 2013-05-19


Posts

: 381


Location

: Aboard the IFS Varda, viewing construction of the next flagship.

Character sheet
Faction:
Species: Human
on Sun Jun 09, 2013 11:55 am
Flak Cannon, Type C-000F
Spoiler:


Sometimes called the "shotgun," the flak cannon is, in some ways, the rough starship equivalent of the small-arms shotgun or scattergun. There are many variations of flak cannon, but in general they are fairly compact, short-barreled turrets, typically with two guns to a turret for efficiency. Flak cannons are widespread, reliable, and versatile, and have a medium rate of fire, higher than heavier railguns or turbolasers, but by no means rapid-fire. The shot, fired from a cartridge in place of a conventional round, can be anything from light anti-starfighter metallic flack to hull-piercing Breach flak to specialized rounds such as Plasma Webs.

C-201F: The first flak cannon designed for frigate use, it was soon after the development of the C-22F, when the size and power requirements were finally practical for frigates. Though no longer used on modern ships, the C-11F can be found on many older military and civilian models.

C-202F: The C-12F is the obviously 5-year improvement over the bulky and expensive 11F model, with lighter and stronger armor, more advanced loading, firing, and targeting mechanisms, and a reduced price tag.

C-203F: Power is a priority with the C-13F's focus on packing a punch. A wider, longer barrel ensures the flak has a wide spread and high accuracy, while shells are filled with nearly twice as much high-density flak as normal flak shells. A lower rate of fire and slower tracking accompanies this improvement.

C-204F: With a high rate of fire, a wide spread, and tiny, red-hot shrapnel rounds, the 14F is a perfect starfighter-killer. Though its range is very short compared to typical starship weapons, it can still hit a starfighter from just outside the average fighter-mounted weapon range.

C-207F: The C-207F is by far the most popular flak cannon produced for frigates, and even corvettes. It is essentially the same as the 204F in that it is a perfect fighter-killer, but the 207F is not only MUCH smaller, but incredibly cheap, allowing IF ships to create a nearly starfighter-proof shell for the price of four or five 204F's. The 207F is the standard AA cannon for Iluvamarth Fleet.

C-208F: A specialized, advanced type of frigate-based flak cannon, the 208F, known as the "cloak cannon," fires a round of flak with incredibly high spread and incredibly low range. Once stopped, the flak pieces, actually dozens of fist-sized emitters, connect to form a sort of "cloak field"-- a web is strung between them, which becomes a field of energy invisible to both eyes and sensors. Even weapons, aside from conspicuously disappearing, do not disrupt the field (unless an emitter is struck and destroyed, which causes a flicker as the field reconnects the surrounding emitters). The unique properties of the C-208F allow much room for creativity in combat, such as the Terminus MkIII, which uses a large field as a sniper barrier. The chief disadvantages to the C-208F are its static nature (the field being unable to move with the ship), and the fact that it only provides cover from a certain angle, while the ship remains visible from all other sides. The significance of these and other major disadvantages have led to the C-208F being determined as conventionally impractical, and the cannon is only seen on highly specialized or experimental ships, or on ships run by a creative, rich, and enterprising captain.

C-209F: The 209F is a defense-specific weapon designed to limit enemy deployment of starfighters and torpedoes. Much like the C-208F, the 209F fires a cloud of short-range, low-velocity emitters with an even higher spread. However, instead of a cloak, the emitters form a powerful plasma web that disables starfighters and destroys torpedoes and missiles. The field is invisible to the naken eye (except when actively destroying a victim), though it is highly visible to EM sensors. Because the web is effective immediately after deployment, and is most powerful when the emitters are in cloes proximity (sometimes enough to slice unshielded fighters to pieces), the 209F also works as a powerful point-defense weapon. Like the C-208F, the 209F's unique characteristics allow a large amount of leeway for creative captains, though it retains similar disadvantages, such as the obvious danger of friendly units hitting the field or bad placement allowing the enemy to use the web to their own advantage. Because of the tactical difficulty in using the C-209F, it is not widely used throughout the fleet.

C-305F: A heavy frigate or light cruiser-based cannon intended to fire high-spread heavy flak, for either fighter formation denial or protection of an important on-ship asset (such as the sensor array on the Starcracker MkII).

C-533F: Purposed purely for destroyers, the 533F is meant to be paired with the C-537R (C-537T/533Fd platform) for a "jungle shot" effect. The dual 533F cannons fire a medium-spread, long-range shot of small pellets designed to light up every reading on a ship's point-defense grid targeting computer. This spread is immediately followed by the dual 537R's long-range, high-powered slug; because the spread loses speed faster than the slug, the 537R munition passes the shot one or two seconds before impact. This pattern is intended to confuse the enemy point-defense grid, making it prepare for (or ignore) what it has identified as a distraction or chaff, before being attacked by the powerful 537R slug. While this platform is fairly ineffective against shields, it has proven extremely effective against unshielded enemies. The 533F is rarely found on its own, as it has a low rate of fire, specialized munition, and targeting systems designed for use with the platform.

C-537F: Using the base model of the 207F, the 537F provides a cheap, effective solution to anti-starfighter operations for larger ships. Though purposed for a destroyer, it is as popular among heavy cruisers and dreadnoughts as the 207F is among corvettes and cruisers. A very simple cannon, the 537F fires small shot in a wide spread at a high rate of fire (up to 120 rounds per minute), with high tracking speed and advanced computerized targeting systems. When used in dual turret form (C-537Fd turret), it becomes a devastating anti-fighter weapon.

Ion Cannon, Type C-000I
Spoiler:


A staple support weapon in any well-armed starship is the ion cannon, in which large negative-ion pulses are charged in a turbine generator then channeled into a plasma charge (for a traditional energy bolt) or released as a large pulse towards a target (a high-spread, short-range web used against starfighters). Though highly effective against unshielded or lightly shielded foes, ion cannons are limited in their usefulness in their lack of physical damage (consisting of a few fused plates or short circuits) and their short-term effectiveness (recycling power generators or basic rewiring can restore power in a few minutes). Additionally, while the energy burst from an ion cannon can pierce several layers of armor and decking, they are far less accurate than their high-damage counterparts. However, the ability to subdue enemies, or remove some from the fight while attacking others with more lethal ammunition, has kept the ion cannon as a secondary weapon on nearly every warship in the galaxy.

C-235I: A small, rotating battery found on many frigates and cruisers; very basic in design, very effective in practice, the 235I is a solid, dependable support weapon.

C-330I: Built for cruisers but used on ships of many sizes, the 330I provides solid power with a focus on accuracy.


_________________
I like cookies.
Join date

: 2013-05-19


Posts

: 381


Location

: Aboard the IFS Varda, viewing construction of the next flagship.

Character sheet
Faction:
Species: Human
on Mon Jun 10, 2013 11:20 pm
Torpedo, Base Type T
Torpedoes are self-propelled missiles with internal targeting systems and maneuvering thrusters, allowing for pursuit of an enemy or avoidance of enemy counter-measures. Each type launches a torpedo with the same specification number (i.e., the 538P fires the 538P Torpedo).
Proton Torpedo, Type T-000P
Spoiler:


Proton torpedoes are high-yield weapons with a proton-scattering warhead allowing for devastating effect against starship hulls, and fair effect against most starship shields.

T-538P: The 538P is designed purely for fighting capital ships. The 538P torpedo is slow, shielded, and sluggish, but delivers a massive payload capable of tearing through enemy shields and armor. Oftentimes, a 538P salvo will actually be accompanied by a starfighter escort.


_________________
I like cookies.
Join date

: 2013-05-19


Posts

: 381


Location

: Aboard the IFS Varda, viewing construction of the next flagship.

Character sheet
Faction:
Species: Human
on Mon Jun 10, 2013 11:21 pm
Rocket Launcher, Type R
Rockets differ from Torpedoes in two major aspects: first, that they are not launched from dedicated tubes, but from firing arrays capable of much higher rates of fire; second, they are never shielded and are equipped with moving flaps and a single thruster instead of a set of maneuvering thrusters. Rockets are generally faster and have a lighter payload than torpedoes, and are typically used to target fighters or weak points on enemy ships.
Non-tracking Rockets, R-000N
Spoiler:


Forgoing intelligent warheads, internal targeting systems, and maneuvering flaps, non-tracking rockets are faster, lighter, cheaper, and much harder for starfighters to detect, and therefore to countermeasure. However, they rely on the shipboard targetting systems, and are all but useless against targeted assault (i.e. individual fighters) without a powerful sensor array.

R-220N: designed specifically for the IFS Starcracker MkII, the 220N utilizes the massive onboard sensor array to target, map, and predict enemy starfighter paths. After calculating several possible paths for a fighter or group of fighters, the 220N rapidly launches a series of rockets which detonate a flak pattern along the most likely paths. When only one Starcracker MkII is present, a single 220N is only marginally effetive; however, in larger battles, when a squadron of Starcrackers can space themselves along the battlefront and link their sensor arrays, the 220N becomes a force to be reckoned with.


_________________
I like cookies.
on Tue Jun 11, 2013 1:13 pm
So far so fascinating!

I like your categorization of systems! I'm looking forward to more!

_________________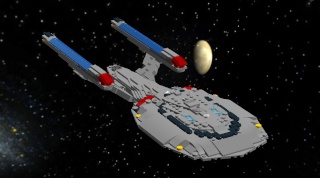 Dino27
"For honor,

   for valor,
 for cookies;  
   and for
friendship!
"   

Join date

: 2013-05-19


Posts

: 381


Location

: Aboard the IFS Varda, viewing construction of the next flagship.

Character sheet
Faction:
Species: Human
on Wed Jul 17, 2013 12:50 pm
Bumping this topic because Flak Cannon updates.

Completed C-xT and C-xF databases and partial C-xI database coming soon.

_________________
I like cookies.
Join date

: 2013-05-19


Posts

: 381


Location

: Aboard the IFS Varda, viewing construction of the next flagship.

Character sheet
Faction:
Species: Human
on Tue Oct 14, 2014 7:09 pm
Bump: huge updates. Totally revamped the system, with new designation formulas, descriptions, and introduction of three new weapon families, the E-series (Electron Manipulators), T-type P-series (Torpedoes, Proton payload), and X-series (Variable Munitions). Also updated to include all weapons found on both the IFS Sentinel MkII and the upcoming IFS Starcracker MkII. Please check out the changes and let me know what you think.

_________________
I like cookies.
Join date

: 2014-05-27


Faction

: Phoenix Command Group


Posts

: 1012


Location

: Classified

Character sheet
Faction: Phoenix Command Group
Species: Khent-sa
on Tue Oct 14, 2014 8:58 pm
Interesting... there were a few points I wanted to bring up, but I'm on a mobile device right now, so I'll save it until tomorrow.

_________________
~Tetrahedron the Deceiver,
Locutus of Geometry
, Chief Librarian of the Phoenix, Mathematical Bloodletter, First Captain of Vanguard Fleet
Meanwhile, on the chat....
Arik wrote:I'm ready to get back to worldbuilding now...
Tetrahedron wrote:I'm not sure if we should interrupt Ant like this...
He might kill us with his cow bombs
Star-Hunter wrote:"He might kill us with his cow bombs."
I'll take phrases I never thought I'd hear in my lifetime for $500

Permissions in this forum:
You
cannot
reply to topics in this forum