on Sun Jul 05, 2015 7:19 pm
PCG Stormspike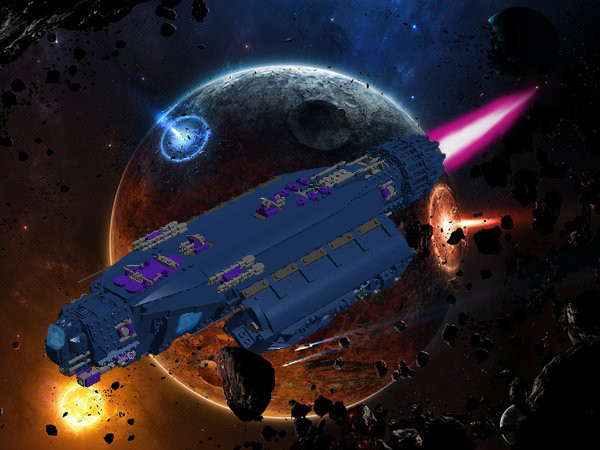 The PCG Stormspike is a medium sized assault carrier used for carrying and then delivering planetary assault troops and equipment into hot LZs while engaged in battle in orbit. It features an extensive troop carrying area making up roughly 40% of the ship and a main hanger making up another 20%. Command, control, living quarters, and engineering make up the last 40%. It has a single large engine, is equipped with a Hyperdrive for FTL, and an extensive support system for the troops it drops off.
Troops are loaded from their holding area into one of the four drop-ships. These drop-ships are infact fully capable starships that are merely carried by the Stormspike in the open-ended "hangers" on either side. These are shielded when carried into the fight by the Stormspike's shielding and the armor on their hangers, and once deployed are covered by their mother ship's weapon-systems, plus any strike-craft deployed out of it's extensive main hanger. There is also a smaller rear general-purpose hanger.
These ships, the Stormwind class, then carry their troops out over the planet-side LZ, and drop them using either high or low altitude aerial drop techniques. Given the popularity of orbital drops, several advanced defenses against them have been developed. In conventional high or low altitude drops, the troops and equipment ride in the safety of the Stormwind ships until their drop at a much lower altitude. The lower altitude also means less they are harder to be targeted while in free-fall, This means more of the troops reach the LZ in one piece that otherwise.
The Stormwind ships are equipped with several missiles and a handful of turrets or anti-starfighter capabilities and for laying down coverfire for their troops, rendering dangers near the LZ into useless piles of ash. Two anti-capital ship guns are also on each ship, for atleast a small amount of protection against larger enemies, but their mothership is mostly responsible for this.
The Stormspike itself is equipped with a large amount of armor and a shielding generator on the stronger than most for a ship of it's size, though more powerful have certainly been put on other ships. But it definitely gives it a long loiter time to fly into the heat of the battle, drop it's load, pick it back up, and scoot. For offense, four quad-barrel blaze cannons and eight phaser turrets have been placed around the ship. In addition to turrets, there are a few forward facing weapons for use on larger, more heavily defended targets. These include two quad-barreled pulse cannons, four rapidly firing railguns, and two large plasma-shell cannons. (Solid rounds energized with plasma). Several top-mounted missile pods located at the rear complete the anti-capital ship weapons.
For support of planet-side operations, the Stormspike features three weapon systems. The first are four missile bays each capable of firing a vast number of 250mm missiles. These are used primarily for defeating large numbers of enemy troops, armor, and sometimes hardpoints or for simple suppression during a hot insert. They are sometimes used for precision destruction of a single target, but are more often used many at a time to wipe out the enemy and clear the LZ area, and prevent a counter assault by the enemy as the troops consolidate together upon landing.
For structures or especially large and heavily armored targets, four planatary bombardment plasma cannons are mounted underneath inbetween the main cannons. These require the ship to be precisely piloted overtop of the target, before raining down powerful anti-captialship fire onto the surface below. And if it's powerful enough to take out a capital ship, it will vaporize whatever it's shooting at planetside. This is useful for bombardment of airfields, large fortified positions, cities, or just to add to the mix with the missiles. While it can be fire using the sensors equipped in the bulb in the center of the plasma cannons to direct the ship, it's much more effective when it is also guided by a ground-placed sensors, placed by drones, special forces, or triangulated by several sensors placed around and outside the impact area.
The last planetary support weapon is the Chameleon turret, named after the Chameleon's extreme accuracy with it's tongue, not it's famous camouflage ability. This turret is used for individual targets that the other weapons may not be suitable for. Got an enemy sniper surrounded by civilians? Snipe him with the Chameleon. Got a fast moving vehicle with a fleeing tier one leadership personnel? Shoot out the engine block...or widen the beam a bit and vaporize the entire vehicle. Is the enemy grabbing you and trying to cut your throat? The Chameleon has even demonstrated an ability to put a quarter-sized hole through someone's head while they where wrestling on the ground with a PCG trooper....although granted the gunner was also highly lucky. The Chameleon can quietly remove threats with liberal precision that could otherwise only be removed by dropping something with a hundred meter blast radius on them. Shots through windows, down foxholes, in crowded streets, or in close proximity to friendly forces, the Chameleon can do it all, not to mention penetrate crazy thick armor. The downside is it's large size and slow firing rate, not to mention that to maintain a weapon of this size and accuracy, it take an insane amount of maintenance.
The Stormspike can also land and act as a stationary control base if necessary, which, for planetary invasions a long ways away from other planets/bases of support, it sometimes a good idea until a more permanent system can be set up, rather than continuously ferrying troops and supplies back and forth. Troops and equipment are loaded and offloaded via four sets of retractable elevators measuring 10 by 20 meters, more than enough for even large vehicles.
Spoiler:

I really like this view of it.

A top view.

The Stormwind class dropships.

A Stormwind with it's side plates extended, opening up the areas to drop troops from, while also conveniently providing side protection for them.

A Stormspike class acting as a temporary HQ.

Y"ou see that guy? That one guy with the rifle? He needs some shiny high-powered freedom, give him a crap-ton of shiny high-powered freedom!"
Designer's Notes:
This was a ship I started near the beginning of the forum, but it instead had a super ugly set of broadside cannons and wings. It was my first attempted at a more Halo/SoaSe style ship as opposed to something SW or ST influenced. I thought the rear and front where good, but had zero idea what to do about the front. A week or so ago I picked it up again and started thinking about the open-ended hangers such as that on the Javelin or on Jonnyred's carrier mini-ship (and a few others ships). I didn't just want to copy the hanger idea, especially since I already had a large hanger, so I ended up making small captial ships to fit in instead. From there it all just started flowing together into one of my smoothest and I think best looking ships. Then I just added a few weapons, filled in the formerly broad-side cannon space and called it a troop ship. Ta-Da!

 I'm now much more happy with it. Credit for the Chameleon cannon goes to Maguilacuddy, a former Mars Mission story writer/MOC maker. The Chameleon's design is based off of the large turreted cannon on his UNIM Fury class Warcruiser, a model that used to be found on the LUCL. Credit for the speeders seen in the snow picture goes to Scarecrow, those are a winter-ized version of his LAV-1 Wasp speeders.
Sooo....what do you think?
_________________
Someday someone may kill you with your own gun, but they should have to beat you to death with it because it is empty.
~/Com|Ant~
Arik wrote:Sadly, it's a doomed attempt. The Illuminati infiltrated the US government before it even was the US government,
on Mon Jul 06, 2015 1:42 pm
I think that it is AWESOME. More commenting to follow when I have time, but great work AA!
_________________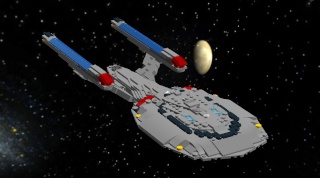 Dino27
"For honor,

   for valor,
 for cookies;  
   and for
friendship!
"   

on Tue Jul 07, 2015 4:29 am
I really like the side hangars and the Stormwind dropships. The armaments are very well done. However, I'm not sure about the bridge, like S-H said. It's a very unique design though. Overall, great job Ant.

on Sat Jul 11, 2015 7:33 pm
@dino: Thanks.
@SH:
Spoiler:
Thanks. though I'm not really sure what's more traditional for a bridge other than putting it right in the front. The colors weren't neccessarily supposed to be traditional PCG light grey/white and red, they where just supposed to be different.
As for the pics, the original image that they where photoshopped onto where roughly 600xsomething, so they started off a little small, and you can't really scale them bigger. And I was too lazy to find different ones.

@PXR: Thanks. Same thing about the bridge though.

_________________
Someday someone may kill you with your own gun, but they should have to beat you to death with it because it is empty.
~/Com|Ant~
Arik wrote:Sadly, it's a doomed attempt. The Illuminati infiltrated the US government before it even was the US government,
Permissions in this forum:
You
cannot
reply to topics in this forum