on Fri Sep 04, 2015 1:25 pm
LDD file (Messenger 2)
An early Earth star fighter, the original MCorp Messenger
1
saw action during the waning days of the Crystalien Conflict as a supply courier, and a nuclear bomber in the Earth-Romulan War. Since their retirement from federal service, both the durable Messenger
1
and its redesign the Messenger
2
have remained popular in civilian, mercenary, and independent circles.
The Star Force Public Threat Awareness Database lists the MCorp Messenger
1
as a Level 3 threat due to its WMD transport and bomber capabilities, whereas the MCorp Messenger
2
is categorized as a lesser Level 1 threat, as it is simply an obsolescent combat fighter.
MCorp Messenger
1
:
on Thu Sep 10, 2015 7:42 pm
This is pretty well done, but it just doesn't "speak to me" for some reason. 

I like the back, the engines, the top, and the wings. But I feel the front is a little... rough. I don't know how to explain it, but it doesn't feel sleek and balanced up front. But this has the makings of a cool, rugged fighter, and I really like the history!
_________________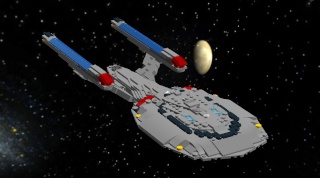 Dino27
"For honor,

   for valor,
 for cookies;  
   and for
friendship!
"   


Permissions in this forum:
You
cannot
reply to topics in this forum