Join date

: 2014-12-19


Faction

: Koine Telos


Posts

: 155


Location

: Blood & Thunder, Brachialis-type freighter, KT space

Character sheet
Faction: Other
Species: Human
on Mon Oct 26, 2015 6:40 pm
Mga-class Assault Ship
Files:
Top:
LXF:

http://www.brickshelf.com/cgi-bin/gallery.cgi?f=559899
Stats:
Armament:
-10x Mk. 2 MLS-H ports
-42x Mk. 2 MLS ports
-42x Mk. 1 Energy Batteries
-8x PD-1B point defense turrets
Defenses:
-10m hexacore composite armour (dorsal), 500cm hexacore composite armour (non-dorsal)
-3-layer particle shielding system
-2-layer ray shielding system
Storage & Complement:
-62x SOIC deployment modules with 4 pods each
-52x  VMS (Vehicle Mount System) modules with 2x carrying capacity
-2x 40m*40m*30m bays
-2x 30m*180m*20m bays
Drives:
-4x Alcel BAR-C sublight engine
-1x modified Alcel Slipspace Drive (1,250 ly/day)
Dimensions:
940 metres long
440 metres wide
Description:
The
Mga-
class assault ship is the go-to choice for mounting an offensive. With the ability to carry over 100 VMS-compatible vehicles in its rapidly deployable Vehicle Mount System paired with 62 SOIC systems, the
Mga
-class is excellent at deploying large numbers of equipment in an extremely short amount of time. When more numbers are required, this assault ship can land and deploy units from its 2 48,000 cubic metre bays and 2 108,000 cubic metre bays that can be configured in a variety of ways.

_________________
nikolokaidon
Join date

: 2014-05-27


Faction

: Phoenix Command Group


Posts

: 1012


Location

: Classified

Character sheet
Faction: Phoenix Command Group
Species: Khent-sa
on Mon Oct 26, 2015 7:04 pm
So it's an Acclamator + battleship. I like.

The angling on that is pretty sweet; between that and the size, it looks mighty impressive. Good job.

_________________
~Tetrahedron the Deceiver,
Locutus of Geometry
, Chief Librarian of the Phoenix, Mathematical Bloodletter, First Captain of Vanguard Fleet
Meanwhile, on the chat....
Arik wrote:I'm ready to get back to worldbuilding now...
Tetrahedron wrote:I'm not sure if we should interrupt Ant like this...
He might kill us with his cow bombs
Star-Hunter wrote:"He might kill us with his cow bombs."
I'll take phrases I never thought I'd hear in my lifetime for $500
Join date

: 2014-12-19


Faction

: Koine Telos


Posts

: 155


Location

: Blood & Thunder, Brachialis-type freighter, KT space

Character sheet
Faction: Other
Species: Human
on Mon Oct 26, 2015 8:08 pm
It's really just an Acclamator that can hold its own.

The angling was probably my favourite part to build; as it got more and more complete it had this growing sense of "looming".

I like to think that it'd hover a few metres off the surface whilst deploying troops, shielding them from orbital attacks (which are something that I'd totally do, hence the increased armour up top). Thanks.

_________________
nikolokaidon
on Tue Oct 27, 2015 9:19 pm
Ooooh! This is KEWL!!! I LOVE the sloping design! Nice work!
_________________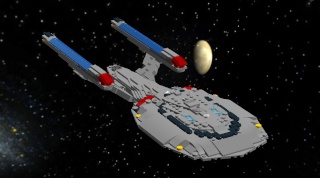 Dino27
"For honor,

   for valor,
 for cookies;  
   and for
friendship!
"   


Permissions in this forum:
You
cannot
reply to topics in this forum