on Mon Jun 24, 2013 1:14 pm
I recently decided to re-do my Centaur-class, originally posted on LU more than two years ago. While it wasn't bad, it wasn't that accurate, so a new version was needed.
The Centaur-class Frigate is made with an Excelsior saucer, to which a small engineering hull is directly attached. A pair of short pylons sprout from the engineering hull and end in long, slim warp nacelles. 
Picture 1:
Picture 2:
The Centaur-class was armed with 9 Type IX phaser emitters and two photon torpedo launchers. 
Picture 3:
The Centaur-class was eventually given a major overhaul in an effort to update aging technology. The refit had a top cruising speed of Warp 8 with a top emergency speed of 9.8 (sustainable for 7 hours).
Picture 4:
 It was armed with 18 Type XII phaser emitters (later ships had Type XIII) and four quantum torpedo launchers. 
Picture 5:
Ships of this class continue to be used in the PCG as fast frigates and couriers. 
.lxf File:

http://www.brickshelf.com/cgi-bin/gallery.cgi?i=5881592
.lxf File (Refit):

http://www.brickshelf.com/cgi-bin/gallery.cgi?i=5882393
Enjoy!
on Tue Jun 25, 2013 12:50 pm
Awesome! That's a centaur alright! And a very accurate one too!  :DI do have four suggestions though (would it REALLY be a comment from Dino if I didn't? 

)
1) I am not a fan of the "glow effect" nacelles and impulse drives, I like classy brick colors... (with completely GIMPed phaser and torpedo effects of course 

)
2) I think the dish could use a layer of tiles on top, I have come to a point in shipbuilding (for Trek ships at least) that I like tiles and not lots of studs) 
3) I suggest not using trans-red pieces underneath, I have no earthly idea why but they just don't look Federation to me somehow... 
4) GET ME A WORKING LINK WITH LXF SO I CAN DOWNLOAD THIS AWESOME THING!!! (

  just kidding, this last one is completely a joke, but I really do want to download it 


)
Other than that....this is one cool ship! The Centaur was an interesting vessel, I wish we saw more of it than background... Now we can, in bricks. 

_________________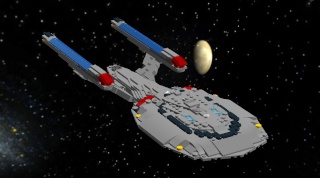 Dino27
"For honor,

   for valor,
 for cookies;  
   and for
friendship!
"   

on Tue Jun 25, 2013 8:20 pm
1) Really? The pictures on Memory-Alpha show glowing warp nacelles on this and other ships. Of course, if you don't like it you can just download the model and use the viewing mode to look at it. 

2) It's an interesting idea, but I think it would make the saucer too thick, and also because there are no wedge tiles it makes it look rather blocky. Maybe if I were working on a larger scale I'd consider it.
3) That's a photon torpedo launcher. I don't really like the location either, but I needed a central spot with a forward firing arc and that was the best place to put it.
4) Hey, that's Brickshelf's fault. 

 It should be up in a day or so. 
Stay tuned for more canon vessels coming soon... 

on Wed Jun 26, 2013 9:05 pm
I mean the pinkish and light blue glow, if it were red and royal blue, I'd love it.

Yeah, it WOULD be a bit much for a ship this size

I use 2x2 round plates and tiles for torp launchers, and although they're really large... and the REAL launchers DO have a TINY bit of red on them, I prefer the clean look of all gray. I suggest doing that in the GIMP effects, adding a LITTLE red dot to your standard color torp launchers.

It's up now so I'm happy

_________________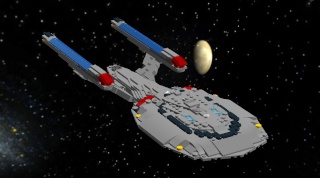 Dino27
"For honor,

   for valor,
 for cookies;  
   and for
friendship!
"   

on Thu Jun 27, 2013 12:19 pm
My next ship will have better GIMP effects. Hopefully.

I think I'll stick with the trans-red launchers and try to find less obtrusive places to put them. It makes it easier to determine how many launchers a ship has and where they are.
on Thu Jun 27, 2013 12:58 pm
True, but you can also just use the "select all pieces of this type/color" tool and as long as you only use those as launchers... instant visual, and if that isn't cutting it, you can then use the same tool to paint the torp launchers a bright color. Of course other people can't see it then

_________________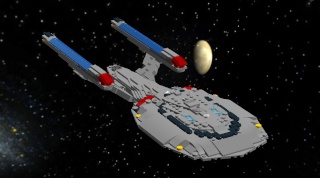 Dino27
"For honor,

   for valor,
 for cookies;  
   and for
friendship!
"   

Permissions in this forum:
You
cannot
reply to topics in this forum