on Wed Feb 25, 2015 11:16 am
The Despoiler is a class of space vessel known for its extensive cargo capacity, fuel economy, and space pirate use.
Stock Despoilers are armed rather minimally, with only four dual turbo-disruptor cannons and one forward facing torpedo launcher.
On its original nacelles, the Despoiler can maintain a speed of Warp 7.8 nearly indefinitely.  It would take a healthy Despoiler warp core half a century to burn a full case of Dilithium while running continuously at Warp 7.8.
The Despoiler features a large loading area in the rear, behind its shuttlebay, both of which are protected by a swinging blast door.
The Despoiler is built with four surface skids, making it capable of surface landings and takeoffs should such a thing happen.
Pic 1: Despoiler.
Pic 2: Top-down view.
Pic 3: Back, blast door closed.
Pic 4: Blast door open.
despoiler.lxf will be live at this link, mod willing: http://www.us.lego.com/en-us/gallery/8daf917d-6157-4503-b2fc-323d42b9a8dc?index=1
on Wed Feb 25, 2015 11:29 am
I like it... more comment to come.
_________________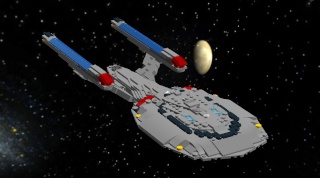 Dino27
"For honor,

   for valor,
 for cookies;  
   and for
friendship!
"   

on Wed Feb 25, 2015 12:53 pm
Originally my intentions were to build a ship around an SNOT experiment, then I decided it would be a Ferengi ship like the Marauder. In the end it's just a generic space pirate ship, maybe even a civie like Tetraman's ships. Either way that is the behind the scenes story of the Despoiler.

If it were a civie ship it'd need a much nicer name, maybe DV-12. Something boring like Lincoln MKS MKZ MKX MKT MKwhat.
on Wed Feb 25, 2015 12:55 pm
Yes! Do it. Name it the MKwhat Despoiler.

_________________
Someday someone may kill you with your own gun, but they should have to beat you to death with it because it is empty.
~/Com|Ant~
Arik wrote:Sadly, it's a doomed attempt. The Illuminati infiltrated the US government before it even was the US government,
on Thu Feb 26, 2015 11:45 am
Thanks for all the positive feedback guys.

Join date

: 2013-05-19


Faction

: Phoenix Command Group


Posts

: 870


Location

: Adventure Comix Studios

Character sheet
Faction: Phoenix Command Group
Species: Human
on Thu Feb 26, 2015 1:25 pm
Nice! I like it a lot! As some have already pointed out, the dark orange hull and dark gray detailing makes for a junker look, as do the landing skids. (Another touch that I absolutely love!) The design of the turrets are also really cool.
_________________

"The enemy gate is DOWN "
Andrew "Ender" Wiggin
Star-Hunter wrote:We channeled pure Jred into Texas to keep it red
was scary for a second
on Thu Feb 26, 2015 2:24 pm
I'm glad you like it.

I did a bit of experimenting combined with various techniques I already know to build this ship and I think it turned out well too!
on Thu Feb 26, 2015 6:50 pm
I must say, this really is the perfect seedy, hot-rodded "beater" ship. 

The overall design is VERY pleasing to the eye, and as others have already said, the color scheme and landing skids work perfectly on this ship. I also really love the nacelles, although I think the pylons could be wider (from fore to aft of ship) and use a touch of dark stone gray to help the transition from nacelles to hull. 

I think this ship just works really well as what it is. Well done!
_________________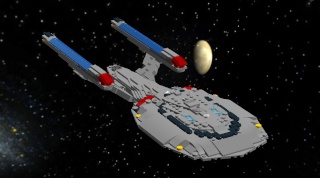 Dino27
"For honor,

   for valor,
 for cookies;  
   and for
friendship!
"   


Permissions in this forum:
You
cannot
reply to topics in this forum