Join date

: 2014-12-19


Faction

: Koine Telos


Posts

: 155


Location

: Blood & Thunder, Brachialis-type freighter, KT space

Character sheet
Faction: Other
Species: Human
on Thu Nov 26, 2015 6:01 pm
Mor-class Artillery Ship
Files:
Top view:
LXF:

http://www.brickshelf.com/cgi-bin/gallery.cgi?f=560502
Stats:
Armament:
-2x MD2 Mass Drivers
MD2 Specs:

MD2
Round mass: 38,645,632 kg
Velocity: 750,000m/s
Round size: 20m width X 10m length X 10m height (rectangular tungsten round)
Damage: 10,869,084 tJ
Reload time: Appx. 1 min, recharge time 40 sec
Notes: A total of 28 dedicated generators provide power to the weapon and its launch systems, allowing the MD2 to use a relatively low amount of power from the host ship.
Defenses:
-250cm energy composite armour
-28-generator 2-layer particle shielding system
-28-generator 2-layer ray shielding system
Drives:
-9x Alcel RAR-C sublight engines
-1x Alcel Slipspace Drive (400 ly/day)
Dimensions:
225 metres long
95 metres wide
53 metres high
Description:
The
Mor-
class Artillery Ship is designed to eradicate any enemies by use of brute force. Possessing a pair of the brand-new MD2 mass driver systems, the
Mor-
class engages its targets from long ranges and relies on distance and other ships to provide cover. Should another ship target the
Mor-
class from afar, the pair of
extensive
two-layer shield networks and the freshly-designed energy composite armour provide enough protection for the ship to destroy its adversary.

_________________
nikolokaidon
Join date

: 2014-05-27


Faction

: Phoenix Command Group


Posts

: 1012


Location

: Classified

Character sheet
Faction: Phoenix Command Group
Species: Khent-sa
on Thu Nov 26, 2015 6:10 pm
Hmmm... now that's how you build a frigate-sized artillery ship.

 Although I'm not entirely sold on the "rectangle with engines" design, I really like the actual concept.
_________________
~Tetrahedron the Deceiver,
Locutus of Geometry
, Chief Librarian of the Phoenix, Mathematical Bloodletter, First Captain of Vanguard Fleet
Meanwhile, on the chat....
Arik wrote:I'm ready to get back to worldbuilding now...
Tetrahedron wrote:I'm not sure if we should interrupt Ant like this...
He might kill us with his cow bombs
Star-Hunter wrote:"He might kill us with his cow bombs."
I'll take phrases I never thought I'd hear in my lifetime for $500
Join date

: 2014-12-19


Faction

: Koine Telos


Posts

: 155


Location

: Blood & Thunder, Brachialis-type freighter, KT space

Character sheet
Faction: Other
Species: Human
on Thu Nov 26, 2015 7:37 pm
Thank you both.
@Tetra: The entire point of it being a rectangle with engines is that it's a relatively unassuming shape (and something that a lot of freighters and civvie ships would likely look like, mostly because it's so simple). Between your
Revelation-
class and J-Red's
Jörmungandr
-class, the non-MSI heavy hitters are really starting to ramp up lately, so I wanted something to hit at least as hard (if not harder - 10,869,084 teraJoules per round is nothing to sneeze at. And yeah, I know Jace has the
Coltellata-
class, but that's not really designed to move often.

). Oh, yeah, and that energy composite armour? It uses some stuff we discussed relatively recently.


_________________
nikolokaidon
on Tue Dec 01, 2015 10:29 pm
Mmm.
Two words:
Fire. Power.
This has plenty of both.
The design, although quite simple in many respects, is well executed and I personally find it aesthetically pleasing.
Wow... that sounded... bland.
No. I am not speaking in this manner due to assimilation by Borg, rather, I have encounter shoe shopping and am presently recharging.

Anyways, I really like this little thing! A heavy-duty-little-two-giant-rail-cannon-fully-mobile-assault-platform. Fairly cheap to produce. Devastatingly effective. Excellent design that demonstrates form following function.
_________________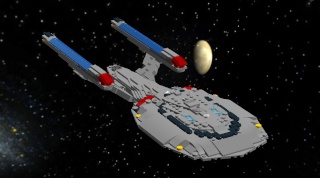 Dino27
"For honor,

   for valor,
 for cookies;  
   and for
friendship!
"   


Permissions in this forum:
You
cannot
reply to topics in this forum